This post is brought to you by Withings, creator of the Withings Aura smart sleep system.
Every morning when you wake up, do you hit the snooze button? You're not the only one. According to a Withings sleep survey, over half Americans do. And even more Brits. A lot of people even think about smashing their alarm.
A lack of overall sleep and an abrupt awakening when your alarm clock or smartphone goes off in the morning are causing a lot of people to feel tired and unrested throughout the day, affecting their well-being and productivity.
Most people would prefer not to wake up to the sound of a loud noise, and rather let their internal body clock pull them out of sleep naturally in the morning. Now French connected health company Withings has developed the Aura, a cleverly designed sleep system that is set to provide a smooth wake-up experience and put an end to the snooze button.
Nearly all surveyed Americans reported that they believe a bad wakeup experience can ruin their day, affect their concentration, and impinge their work and well-being. Daytime tiredness can also lead to tardiness and accidents. Half the people surveyed expressed a wish to get rid of their alarm clock and wake up by natural means every morning.
The Withings Aura comprises a 15-mm soft Sleep Sensor that is placed under your mattress, a beautifully designed light and sound Bedside Device, and a free iPhone app.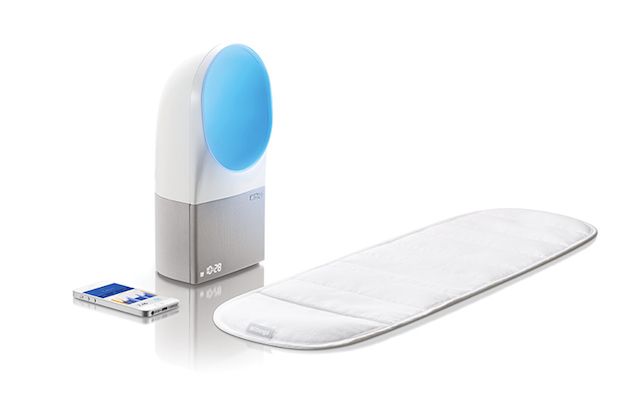 The Aura monitors and improves your sleep quality, using a combination of tracking body movements, heart rate, and breathing rate throughout the night and emitting soothing LED light and sound programs to promote the onset of sleep and provide a stress-free morning wake-up experience. All the data is delivered to your Withings Health Mate app in the morning to evaluate your light, deep, and REM sleep cycles.
How does it work? The Aura emits light at wavelengths designed to inhibit melatonin, the brain-secreted hormone responsible for the sleep-wake cycle.
The device's fall asleep programs use long red light spectrums known not to inhibit melatonin, and its wake up programs use short blue light wavelengths to block melatonin and raise your alertness from sleep.
The Aura can also help you doze off to recharge your body and mind at any time. Power naps and relaxation sessions are well known to improve your health and mood while encouraging creativity.
The Withings Aura is available on Withings.com, Amazon, and at Apple stores, priced at $299.95.