Back when I was in college, I didn't have a computer and I didn't have a typewriter. I did, however, need a way to write papers for my classes. While this may date me, my solution was to purchase an electric typewriter that had word-processing capabilities (I think it was a Brother). I could see one line at a time on it, and the only way to see a whole page was to print it out using the typewriter itself.
These days, of course, we all use full-on super computers to write our blog posts, school papers, and reports for work. You can't get away from them. If you just want to write, you have to discipline yourself to turn off the Wi-Fi and ignore the constant stream of beeps and notifications that make up a typical work or school day.
The Hemingwrite wants to be the answer to the always-on computer writing conundrum. Instead of eschewing all network connectivity, however, the Hemingwrite tries something different.
"It combines the simplicity of a '90s era word processor with the modern tech we all require," writes the team on their web page, "like cloud backups and integration into our favorite document editors like Google docs and Evernote."
Now that's something I can get behind.
It's also pretty gorgeous, right? I mean, just look at that thing.
The Hemingwrite reminds me of another bit of technology that I've seen, the AlphaSmart, a single-use keyboard designed for students to use when schools have less than one-to-one computing systems. A school can purchase these AlphaSmarts for far less than a typical computer, and then allow students to create electronic documents that can then be uploaded to school computers via Wi-Fi or cable.
This tactile-clicky keyboard goes one step better, with the networking capability of synching with cloud services like Evernote or Google Drive. This is the killer feature, setting the Hemingwrite apart from other disconnected devices or apps.
In addition, this bad boy will have a six week battery life, letting you head off into the woods like Thoreau, with nothing but your soul and your Hemingwrite for company. It will let you store over a million pages, too, so you'll never have to sacrifice your prose for more memory space. The display — much bigger than the one line I had back in college — is full-on e-ink, like your Kindle or Nook. That lets the Hemingwrite use much less battery as well as being intensely readable in bright, direct sunlight. Try that with your laptop, why don't you?
It's also pretty gorgeous, right? I mean, just look at that thing.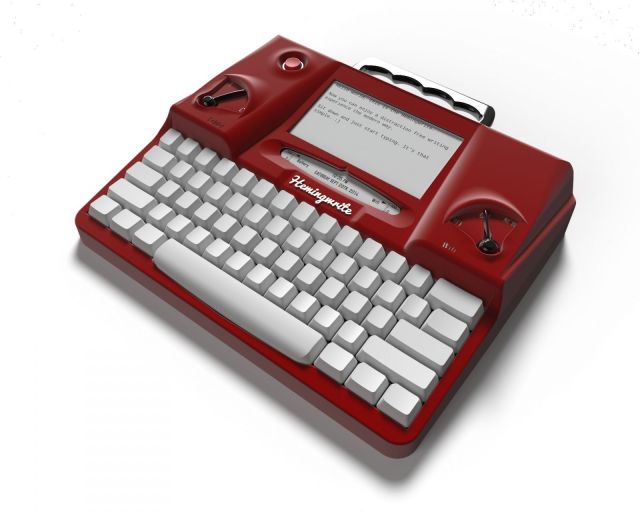 Heirloom Electronics, the folks behind the Hemingwrite, is one of 20 companies in Engadget's Insert Coin competition, which will use your votes to select 10 semi-finalists who will then head to Expand NY 2014, a future technology conference in New York this coming November.
To vote for the project, head over to the Insert Coin site now and cast your vote.