What's the difference between a businessperson and a regular person? According to Evernote, a businessperson has secrets, whereas a regular person is happy to share everything. This somewhat cynical take is a pretty good model of the world, and it is embodied in the Evernote Business Notebook, a "collabo" with Moleskine that lets you snap/scan a photo of your pages into Evernote, and selectively share the result.
Let's take a look.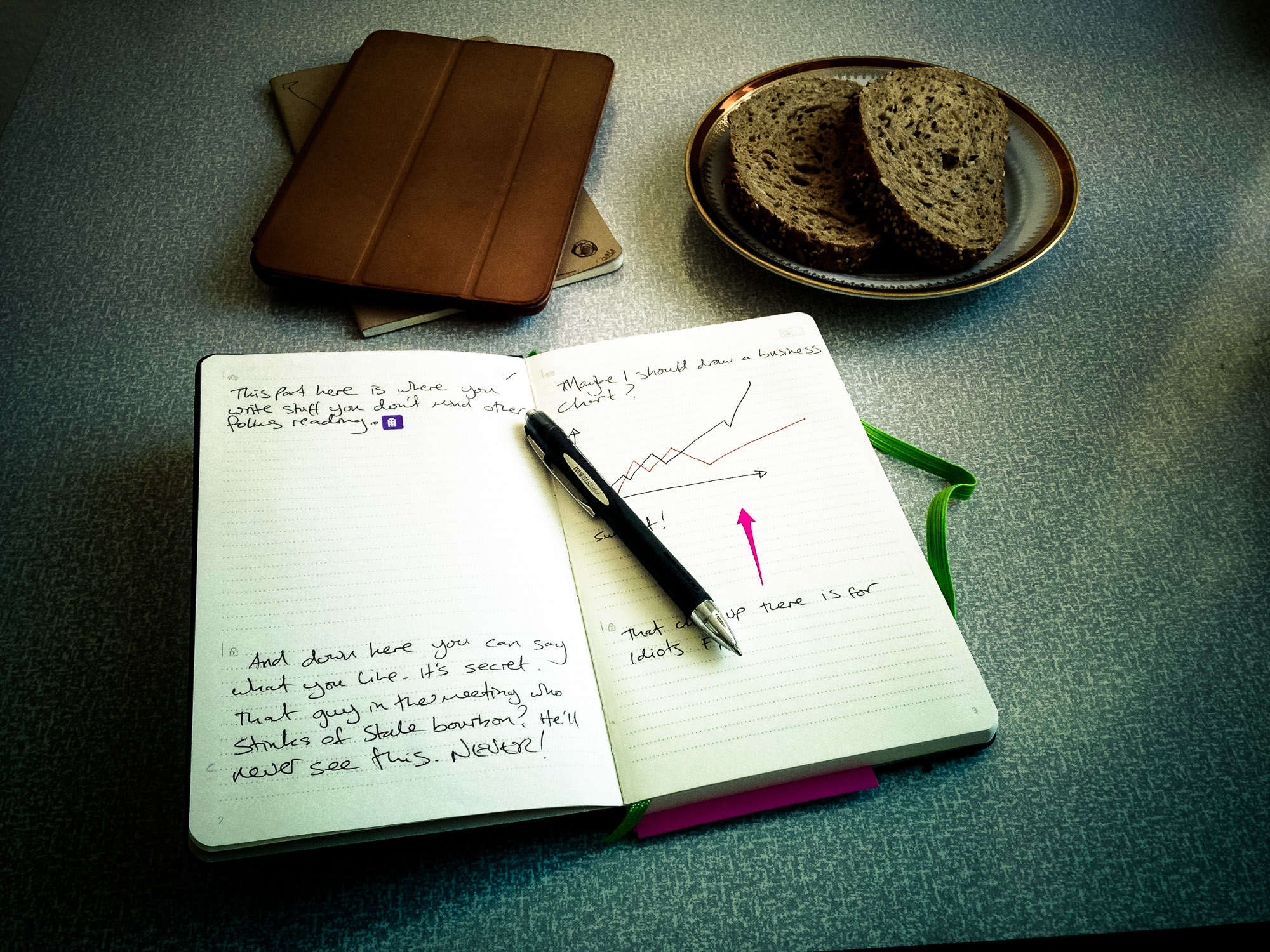 I'm a fan of Evernote's magical ability to turn a piece of paper into a searchable file on all your devices, just by snapping a picture with your iPhone. To me it seems like a much better way to get your handwritten notes into a computer than the alternatives – using a special pen and paper that tracks your handwriting or paying a boy to type up your notes for you.
Evernote's branded Moleskines soup up the paper side of the deal, with enhancements to ease the analog-to-digital switchover. The pages have a dot pattern so the handwriting-recognition software knows exactly what's page and what isn't, and can correct for skewed perspectives because you couldn't line up your camera straight.
The has a little checkbox at top-right on each page. Check it, and that page will be added to your Evernote reminders list. And like all the other Evernote books, this one comes with a bunch of fiddly stickers you can put on the pages to categorize them. These stickers are recognized and the resulting scanned pages will be tagged accordingly.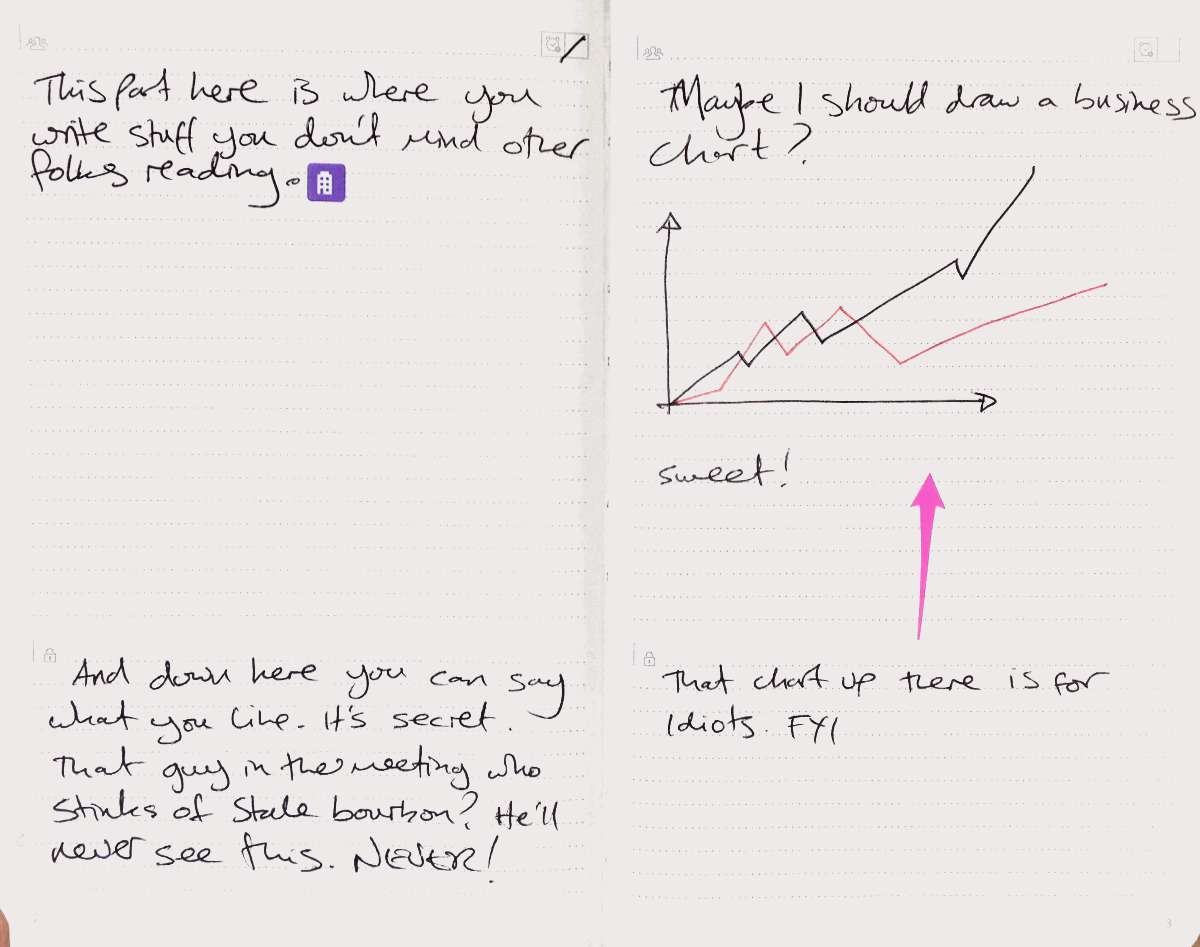 The gimmick here is that – when you come to share the scanned pages – you can choose to only share the top part of the scan. The Business notebook divides the page into two sections, with two-thirds at the top for public notes and a third at the bottom for private ones.
The image is cropped to remove the bottom third where you added secret notes about other attendees or doodled pictures of the CEO. But be careful: This only works if you share the image via email. If you share the note within Evernote, by putting it in a shared notebook, the other folks sharing that notebook will see everything, including the private part.
The book itself is a typical Moleskine, with a rear pocket, a ribbon bookmark and an elastic strap to keep the book closed. The bookmark and strap are in a fetching Evernote green, and the black, faux-leather cover is embossed with a rather lovely geometric pattern, marred only by the little Evernote elephant logo. Pages are numbered so you can find them quickly when matching them up to your scans, and the book is as sturdy and light as any other Moleskine.
Is it worth the $33? For comparison, a regular Moleskine of the same size – 240 pages, 13 cm by 21 cm (5 inches by 8.25 inches) – and with plain pages comes in at $19, which means that the fancy printing and stickers cost you $14 (the book comes with a coupon for a three-month Evernote Premium subscription, too).
If you like to spend meetings peeling off and placing little brightly colored stickers, this notebook might be worth the extra money. But seeing as regular Moleskines get scanned just as well as these, you might want to skip the Business Notebook and spend the $14 on, I don't know, some Hello Kitty erasers or whatever.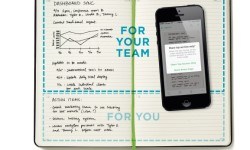 Business Notebook by Evernote ($33 list)
The good: Handsome; integrates with Evernote.
The bad: What's the point, really?
The verdict: If your company is paying for your stationery, then why not, right?
Buy from Evernote