Travel can be a chance to practice minimalism, or an opportunity to drive yourself nuts. What am I talking about? Luggage. You can pare down your essentials to fit in a carry-on – even if you're away for a month – or you can throw in every item of clothing and every charger you have. The second approach will result in a broken back, and you'll still find that you left something essential at home.
Over the years, I've perfected my packing technique so that I only take the bare minimum. And when I say "perfected," I mean "struggled with." But it works for me, and the principles can be applied even if you're the kind of person who hires a boy to carry your trunks for you when you take a cruise on the Titanic.
So here's the Cult of Mac Guide to Traveling Light, a roundup of strategies, product recommendations and other tips to make your next trip a breeze.
General packing
This is the big one, so we'll address it first. Pack right and you will stay organized for your whole trip. You'll never leave anything behind, and you won't even fear airport security, because you can pack and unpack everything in seconds. The secret? Packing cubes.
Packing cubes are little zip-closing bags for compartmentalizing your luggage. I only use one or two, along with several other small bags. A great brand of cubes is Eagle Creek, as they last forever, have neat handles for grabbing them from a bag, and come in various configurations – double-sided cubes for clean/dirty clothes, for example. I use a half-cube for my clothes. All my clothes, unless I'm carrying a thick winter jacket, in which case it gets packed in its own bag in with my bike (I pretty much always take my folding Brompton with me on the plane).
Other gear gets put in its own bags. My Aeropress and coffee grinder, for example, go in a small packing cube with some coffee beans, and set at the top of the bag when I'm packing (more on that later). Shoes get their own little cloth bag, and all my chargers, camera connection kit, spare batteries and so on go in a little toiletry bag from Muji, which has lots of compartments and even a hook for hanging it when I arrive at my destination.
The point is, everything gets packed in its own bag, and then these bags get packed into your carry-on. This means you can easily get to any section without disturbing the rest. I always, always get stopped in German airports because I carry a hand coffee grinder (metal cylinder) inside an Aeropress (a plastic cylinder). Keeping them on the top and in their own bag means I can grab them (and replace them) quickly.
Clothes
I'm a roller. Even at home, I roll my T-shirts and keep them on a shelf. This keeps clothing crease-free (if you care about that) and also makes it random-access – you can grab any item from your clothing cube without disturbing the others. Want to change into a fresh T-shirt in the airport arrivals lounge? No problem. Need your gloves and scarf in a hurry? No worries!
So I roll my clothes. Underwear gets rolled together. T-shirts get rolled individually, and socks are paired flat and then either stacked or folded, depending on how many I have. Anything too big to roll gets laid across the top or on the bottom (pants, or maybe a shirt), and anything that I might need in a hurry gets laid on top – a rain jacket maybe.
And that's it. The beauty of putting your clothes and other gear in cubes is that packing is exactly the same whether you're taking a rolling suitcase or a backpack. You separate out the steps of organizing your gear, and then packing it. And if one packing cube seems like too few, then you might be carrying too many clothes.
Merino wool, washing and packing too much
I recently did a two-week trip to the sweaty humidity of Barcelona, Spain, and here's what I packed: three merino wool T-shirts, one cotton T-shirt, three pairs of underwear, two pairs of socks (one merino wool, one polysomething – but not cotton) and one pair of pants. Also a hoodie and a rain jacket, but only because I had to wear them to the airport.
And that, along with some bike shorts and gloves, swimming trunks and a couple pairs of sandals (including these Keens) was it.
The secret, apart from ruthlessness while packing, is merino wool. This stuff can be spun into T-shirts, hoodies, socks and underwear and it feels a lot like a silkier version of cotton jersey (the regular T-shirt fabric). It can even be washed in a regular machine on a regular cycle (although you should use wool detergent every once in a while to "re-fat" the wool, as my outdoorsman friend Aki puts it).
But merino has superpowers. First, you can wear it for days without it smelling bad. Just hang it up overnight and you can go for – literally – three or four days in the same T-shirt and not only does it smell fresh, it feels fresh too. Even if you're sweating into the thing all day long.
Also, it'll keep you warm in the winter and cool in the summer (it wicks so well it can actually be cooler to wear wool than going shirtless, especially if you're on a bike and have a constant flow of air). A couple of merino layers will beat a thick sweater any day. And if wool gets wet, it still keeps you warm, unlike cotton.
Wool also dries quickly, letting you wash your underwear or T-shirt in the shower with you, hang it up and -– if there's a stiff breeze — it'll be dry by the time you've had your second breakfast. This is the key to packing light – take clothes that can be washed along the way. And that don't need to be ironed.
To this end, you might like to take a travel clothesline. These are stretchy, braided lines that loop onto whatever wall fixings or tree branches you can find. The braiding lets you poke your clothes in between the braids to secure them, so you don't need clothespins to stop them from blowing away. And you can easily make your own from rubber bands.
Toiletries
Just a quick tip here. Buy a clear plastic bag for your toothpaste, deodorant and so on. I can't remember where I picked it up, but I have a zip-closure bag made from sturdy clear plastic, and that's my main toiletry bag. No, it's not regulation size, but I've never been stopped and asked to put my stuff in another bag by airport security.
Chargers
Your problem is more likely to be a lack of sockets than a lack of chargers. Even when I stay with friends, I never have enough places to plug things in. This is because I'm usually out all day.
I want to charge everything overnight, at the same time, instead of just plugging it in when the battery bar turns red. So you might want to pack a splitter to plug more things into one outlet. Or you can buy something like the DigiPower travel charger, a charger for camera batteries with a USB port on the side. This lets you double up on one outlet without extra hardware. Of course you might not be carrying a camera, so you could opt for a USB charging brick instead, something with three or four ports for charging from one power outlet.
You might also consider the PlugBug, a cute accessory for the MacBook power brick that adds a USB port, as well as coming with a box of alternate duck-head international adapters. If I'm not taking the Mac, I just pack two iOS chargers, a 12-watt iPad brick and the little 5-watt Euro iPhone adapter.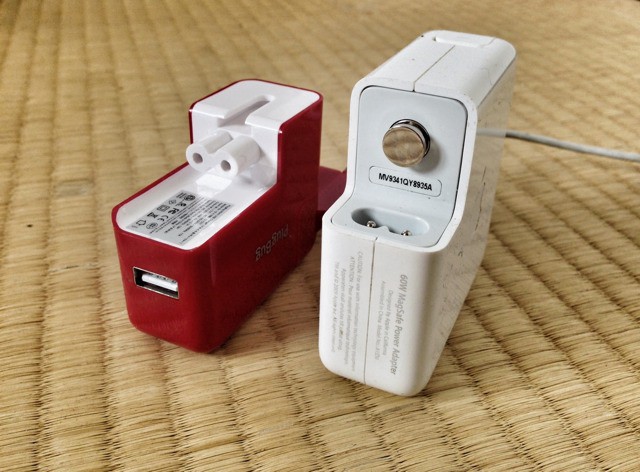 As for cables, I used to use stubby travel cables, but these are barely lighter than the full-size versions, and are a real pain to use, leaving your iPhone dangling from the power socket, say. Now I take a pair of Lightning cables, a microUSB for my e-reader and almost everything else, and one stubby Griffin cable, one of those big microUSB ones, because I have a bike light and a bike GPS that both need it. And this is actually a case when I don't mind the gadgets dangling from their chargers as they're so small.
Gadgets
One of the advantages of packing so light is that I can afford to take along a few luxury items. If I'm going to be working, this means a proper keyboard for my MacBook, plus a trackpad and a stand for the computer. On this latest trip I took along a Filco Minila Bluetooth clicky keyboard, plus a Rooster stand (review coming this week) and my Apple Magic Trackpad. The trackpad probably isn't ideal, but I haven't yet found a decent mouse. Here's the setup:
I won't spoil the review, but the Rooster is amazing. Even if you choose a smaller, non-clicky keyboard for travel, you should use this stand. It raises the MacBook up to eye level, and it packs down to something so light and tiny you can toss it into even a carefully packed bag and forget about it until you need it. I get RSI in my arms if my computer isn't set up just so, so for me these extras make it possible to work while traveling without killing my arms.
Bags
Then we get to actually packing your gear. Like I said, you can drop the cubes and other smaller bags inside any larger piece of luggage. I use a backpack. Specifically, the extra-large version of Rickshaw's Velo backpack. Why a backpack? There are several reasons. First, it's easy to carry around. No wheeling or lugging on one shoulder. As the carry-on has to be kept under 10 or 12 kilos anyway, it's easy to carry on the back. And because I almost always cycle to the airport, or at least to the railway station, the backpack is ideal.
Next is that it's stealthy. European low-cost airlines are ultra-vigilant about carry-on sizes since they started charging for checked luggage, so having a bag that can be over-packed but still look small is ideal. And while any backpack could work, the Velo is waterproof (in the sailcloth version), has a patch pocket big enough for a water bottle (and which I use for an iPad and other things I'll need on the flight) and comes with an internal sleeve that Velcros into the open interior. It's meant for carrying a computer, but it also works for iPads and papers, and it lets you easily remove the iPad or MacBook for the X-ray machine.
Packing order is a matter of necessity and priority – it depends on your bag and on what you need to get to first. But because people love reading this kind of stuff, here's how I pack the big Velo:
First, in goes my sleeping bag (if I'm taking one – I use it when sleeping on people's couches) along with any loose, tough items. Sometimes I toss my MacBook's charging brick in here so I can get away with a smaller bag for my other chargers and cables.
Next up, my clothes. Everything is in one packing cube, and I slip it in horizontally. Then, down one side of this I drop my camera (a FujiFilm X100S in its own leather case) and the little charger/accessory bag (the Muji one). Down the other side I slide a water bottle (water bottles are fine at airport security as long as you take them through empty).
The iPad and/or MacBook go in the interior slipcase (until I'm through security, when the iPad goes in the front pocket) and all my travel documents and my wallet sit in another hanging pocket that Velcros inside the main cavern. Years of living in the pickpocket paradise of Barcelona has made me too paranoid to put anything valuable in the front pocket until I get to the airport.
And finally, I put in my little pack of coffee-making gear. I used to put it in the bottom of the bag – and I still do when not flying out of Germany – but as I get pulled every single time I pass through German airport security, I've taken to putting it up top for easy removal. In fact, next time I think I'll just put it in a separate tray to make things easier.
The other note to make about bags is that I usually take a few others with me. I have a smaller version of the Velo backpack which I pack with the bike, and an old canvas army-surplus satchel that weighs so little and folds up so small I take it in the carry on. I don't want to have to lug around a big backpack wherever I go at my destination, so I take these two extras along with me.
One final word on bags. If I wasn't taking a Mac and the keyboard, I could actually pack for two weeks in the small backpack and do carry-on only. I usually never do this, though, as I like to have a slightly bigger bag with extra space rather than packing everything tight into a smaller bag. It makes moving those packing cubes a lot easier, and weighs almost the same.
Miscellaneous tips
I usually pack a few other things on a long trip. I take a spare pair of spectacles, packed in a hard case, usually at the bottom of my carry on. I take some wet wipes, because hands get grimy when you're on public transport all day long. I also pack a small Opinel knife (checked with the bike), and a pair of noise-blocking earplugs. I use these on the plane to cut out the engine drone and the rasping hiss of the wings splitting the air, but they're also handy for sleeping if your hotel or friend's living room opens out onto a noisy street.
Conclusion
And that's it for the Cult of Mac Guide to Traveling Light. I steered clear of specific gadgets because – well, because you already know which gadgets you'll be taking on vacation or a business trip. Why the hell would you buy a bunch of new crap just for one trip when you've spent years honing your personal selection?
One final tip. You want this stuff to be reliable, and to last so long that you can tune your process over many trips. That's how I arrived at my current setup – trial and error. So while those Eagle Creek packing cubes look pricey, they're really not. I've been using mine for years and after many trips through the washing machine, they're still like new.
Treat this like a nerdy game and you'll have a lot of fun. I fine-tune my packing to the trip, and I get annoyed if I take too little or too much. My friends laugh at me when I arrive for a week's stay with just a tiny backpack and my little folding bike, but I can tell that even as they tease and call me a moron, they secretly think I'm awesome. I can just tell.