Apple and Google may reign supreme as the top two tech companies in the U.S., but when it comes to attractiveness, Amazon and Microsoft employees are absolutely slaying them.
After crunching the numbers from its social-networking app for professionals, Hinge found that employees from Amazon are the most sought-after on network, topping both Google, Facebook and Microsoft, with Apple's young professionals coming in dead last.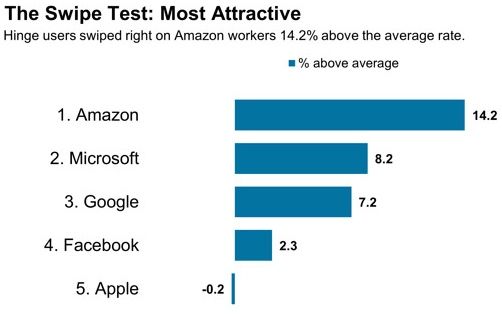 According to the Hinge's study of nearly 3 million matches, Amazon employees were liked 14% more than the average Hinge profile. Microsoft employees came away with a 8.2% popularity bump while Google scored 7.2%. Facebook received a meager 2.3%, while Apple came in dead last with a -0.2% attractiveness rating compared to average users.
Hinge launched last year and is basically like Tinder, where users swipe between profile cards to like or dismiss people based on their attractive, only it emphasizes professional experience to create new work-related connections rather than sleazy quick hookups. The analysis calculated attractiveness by measuring how often users swiped right on employees from the five tech companies.
You might expect the attention-to-detail obsessed nerds at Apple to be the most picky among tech's top firms, but Hinge says that honor goes to Facebook. Mark Zuckerberg's employees 7.5% more likely to discard potential matches, while the tender loving folks at Apple were only 0.5% more picky than the average user.
Via: WSJ