If you want to delve into the deep end with a massively online battle arena game, you can head on over to Riot Games' League of Legends or Valve's own Dota 2 with your computer, download a free copy of each game, and then dive in.
Or, you can grab a copy of Fates Forever, a surprisingly well-tuned and deep version of the popular game genre and eSports phenomenon. It's been over a year in development by the team led by the founder of proto-Game Center Open Feint and one of the first hit game devs on the iOS platoform (Aurora Feint), Jason Citron.
When we spoke to Citron last summer, he was full of excitement about his promising game-in-development. The wait has been worth it, as Fates Forever puts on an impressive show, squeezing a fully-realized MOBA game complete with distinctive heroes and cunningly designed infrastructure that can encourage and include everyone, from those brand new to the genre to the more veteran MOBA players, all on the iPad.
This is a fantastic game, and you'll want to check it out right now.
Overall, playing Fates Forever is a delight, and I've spent quite a few hours engrossed in the intricate battle dance that the MOBA genre requires.
When you jump into the game, you have an opportunity to run through a short tutorial to get your bearings in the game. MOBA players will find familiar mechanics: you are on a team of three battling another team of three for supremacy across a map that contains your own and enemy defensive towers along a few paths that lead to each teams home base. Destroy the Gyro located at your enemy's base and you win. It's as simple as that. Small swarms of minions spawn from each base and head toward the opposite camp, useful for hiding behind and using as cannon fodder when attacking the intervening towers.
You'll have to learn the strategies and styles afforded to each of the heroes, as well. There's a shop that you can access when in your own health-dealing home base that uses in-game earned gold to purchase better armor, weaponry, and health potions. Each of the minions you kill along the way gets you gold if you deal the final blow yourself, so managing your combat is a key feature of this type of game. So is knowing when to attack and when to retreat, whether to use magic or ranged attacks or bull your way in to attack with big melee strikes. Each character has up to four upgradeable spells and special attack abilities as well, making each new hero a fun learning experience.
How you play will depend on your character: there's Renwil, a gluttonous warthog who uses a massive jade hammer to deal direct damage to foes, May, a radiant lynx who is a master of the bow and ranged attack, Elroc, the angry bard bird who plays his magic-dealing guitar, and (my current favorite), Modo and Tago, the stopping snails who use a variety of magic attacks to slow down and damage enemies along the way. These are the heroes that are currently free to play as; like any typical MOBA, these will rotate on a regular basis, letting you try them all before you start buying them with in-game earned "ore" or actual money via in-game purchases through iTunes. Once you own a hero, you can start leveling them up, customizing their appearance, and other fun stuff.
You can play online with other Fates Forever players, either in two competing teams of three, or co-operatively against a team of 3 bots. You can also practice your skills in a completely offline version with two bots on your team and three bots on the other team, so you don't have to jump right into the fray with other gamers. There's a voice chat function that works when you plug in headphones, which is a really nice touch and pretty fantastic on an iPad.
The visuals are delightfully high-resolution and the soundtrack is suitably epic. The controls are pretty solid and moving your character can be done with taps or by just holding a finger down on the screen. I've only seen some lag in spots where the Wi-Fi is spotty (like a full coffee shop), and targeting specific heroes and minions can be a bit tricky with a finger, as the action moves pretty fast. Overall, though, playing Fates Forever is a delight, and I've spent quite a few hours engrossed in the intricate battle dance that the MOBA genre requires.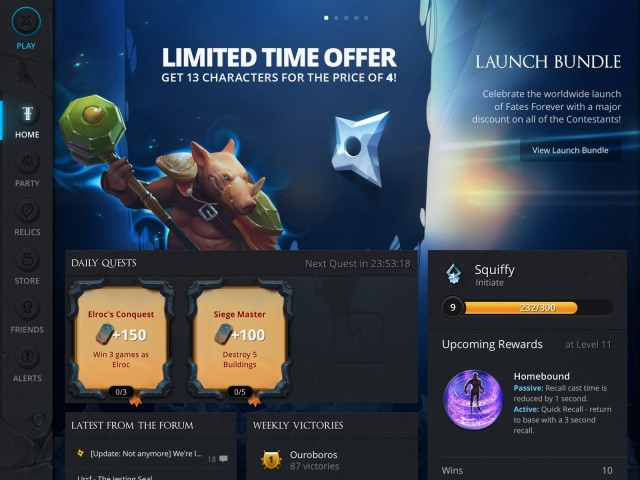 If you've been looking to take a look at a real MOBA, or you are interested now that you've read more about this particular version, then be sure to grab your free copy of Fates Forever today and come drop into a match or two with me (my screen name is Squiffy — don't ask).
Fates Forever by Hammer & Chisel (Free)
The good: A high level of style, substance and depth with a unique and interesting world and heroes to explore; nails the MOBA genre through and through.
The bad: Tapping away at bad guys can be a bit hit-or-miss.
The verdict: Get this game, now, and I'll see you online.
Buy from iTunes App Store