CHICAGO — I thought I was boarding the train with a camera that gave me a cloak of invisibility.
But even before the train began moving away from the station, the eyes of a man with a handlebar mustache drew a bead on my Autographer, a tiny, continuous-shooting photographic device clipped to my breast pocket.
He furled his brow. He did not blink. What was he thinking? Could he see the lens? Was he wondering if that thing was on? Maybe some insecurity set in, but the vibe felt like he was suspicious.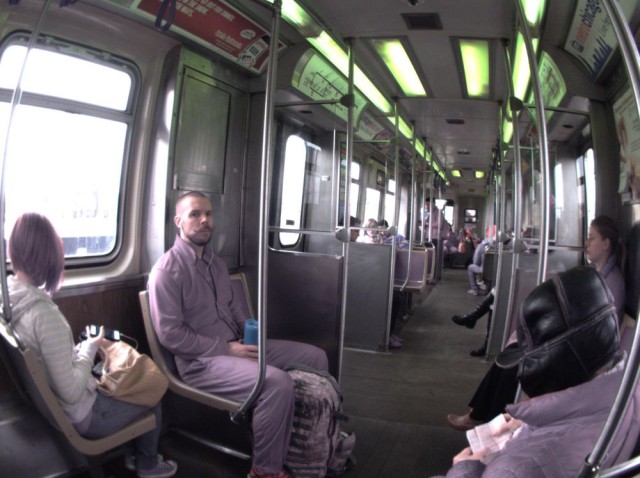 Eventually, his stop came up and he left without asking. But what started out for me as a straight-forward product review of this wearable camera, developed by OMG Life of London, had become more like a social experiment involving a possible new direction in photography.
Autographer is a 5-megapixel camera that stores thousands of pictures with a no-hands approach to recording the events of your life. Turn it on, clip it to your clothing and go. There are sensors that gauge light, motion and direction, along with three settings for shutter intervals (the highest of which snaps a picture every 10 seconds).
The test model I wore recorded four pictures of the man staring right into the lens as he sat to my left on the train. So that's at least 40 seconds of curiosity.
Like any eager photographer, I had unboxed the device and only glanced at the very simple operator's manual. Autographer needs no complicated directions on how to use it. There are two buttons and just a few modes for you to adjust, one of which includes whether you want to turn off the blue light that blinks every time the stealthy camera captures a picture.
Perhaps more importantly, the Autographer comes with a pocket ethics guide. I probably should have read it before leaving the house, because one paragraph speaks directly to using the device aboard trains: "Pause your image capture if you are in close proximity to people you don't know for a long period of time — for example, if you are seated opposite someone at an event or on a packed commuter train."
Like Google, which publicly implored Glass wearers not to be Glassholes, the maker of the Autographer urges users to exhibit common sense — and common courtesy.
Privacy is a hot-button issue as more and more moments of our everyday lives get routinely captured by smartphone users and surveillance cameras. Surreptitious recordings sometimes get blasted out to the internet, causing embarrassment and shame. If you're going to dive into this new photographic realm, OMG Life asks that you do so responsibly.
The company developed the camera for patients with dementia or brain injuries, envisioning it as a tool to help them remember the events of their days. As OMG Life began exploring recreational uses of the Autographer, the company wanted to be sure to instruct users to obtain prior consent, respect the privacy of others and have an understanding of and appreciation for local values (and, in some countries, local laws that regulate candid photography).
"The etiquette guide was something we wanted to include," said Simon Randall, OMG Life's managing director. "Although photography has been around for a long time, this application of it is actually very different in terms of usage, emotion and the way it captures life as you live it."
We generally think of etiquette for device use only after we have alienated the people around us. That's kind of what happened when I began my walk around the city with Autographer discreetly recording the various places I wandered.
Only after shutting off the camera did I begin to consider whether this type of device — the stuff of spy novels and Cold War surveillance — crosses a line, even in a society that obsessively documents the most mundane events of the day.
The experience left me more impressed with OMG Life for considering the implications of misuse of the Autographer than for the device itself.
The image quality is rough and currently not worth the $400 price. For all possible applications, from mosh pits to mountain biking, there are better (if bulkier) devices that cost a little less money.
Moreover, I don't like the idea of leaving the decision of when to snap the shutter up to the camera. There is an option to shoot a sequence with the camera, and you can review your shooting progress with the accompanying smartphone app. As I reviewed the more than 1,000 images I made with the Autographer, I quickly grew tired of the distorted, fish-eye aesthetic.
Is art by chance art? Call me old-fashioned, but I prefer to see things for myself.