I don't own a whole lot of Lego at the moment, and that's intentional because if I did, I'd just sit around building things all day, and none of these reviews would happen.
Loco Motors by Minority Media
Category: iOS Games
Works With: iPhone, iPad
Price: $0.99 (introductory; reg. $4.99)
Building something from scratch is satisfying, and if it has a function to perform and succeeds, it's even better. Loco Motors plays on this by letting you build your own vehicle and then use it to complete tasks on a test ramp. It's essentially two puzzle games in one: one in which you build a car that will run, and another where you let it loose on the track to complete specific tracks.
And luckily, it has an interface that lets you do these things both easily and quickly.
It isn't hard to make a car in Loco Motors: You just draw lines to form the frame; drop in an engine, a gas tank, and your driver; slap on some wheels, and that's it. You can add extra gas tanks for longer tracks and more engines so you can clear some sweet jumps. You can delete parts with a single tap and swap them out just as easily. It's incredibly accessible.
Of course, you still have to make something that will make it through the course and collect the gear pickups on the way, and that's where the puzzle element comes in. You have to adjust your design as needed, and because the creator is so ridiculously easy to use, you never feel like you're spending all your time making minor tweaks.
The car creation is incredibly accessible.
Loco Motors also includes a skill element in the form of the talking-doll-style string you pull back to get your car moving. You can start it off quickly or let it build speed over time. Different tracks call for both, and it takes a bit of experimentation before you find the right combination of design and power to do what you need to.
And that's maybe where this game will lose some people because while it is easy to make something, making the right something requires more experimentation and fiddling than casual players might be prepared for. But if you're into it, this is a great game for you.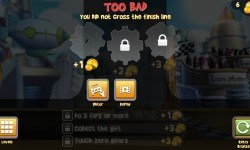 Game Name: : Loco Motors
The Good: Easy car creation and fun problem-solving.
The Bad: Can be a bit fiddly at times.
The Verdict: It's a cool game that could bog you down with an overly elaborate creation system but wisely keeps it all simple.
Buy from: App Store – Loco Motors – Minority Media Inc.

[rating=game4]