SAN FRANCISCO —  The Game Developers Conference is an odd beast, less a trade show and more a topical conference that caters to the folks actually making the games you while away the hours with on your iPhone, iPad, and Mac, plus that console under your TV.
Cult of Mac will be on the scene when a gaming tribe of 23,000 comes to town — that's about the population of Poughkeepsie, N.Y. — and here's what you can expect.
For starters, there's a large posse of video game companies, taking applications from hopefuls looking to break into the games industry, plus an Expo-style show floor with everyone from the big dogs of Sony and Nintendo to smaller, one-person dev teams. To that eclectic mix, add a wellspring of press bubbling about the place, hoping to catch a glimpse of the next Flappy Bird or Call of Duty. This isn't your usual set-up of booth babes and cheesy swag — the organizers and attendees have made a conscious effort to keep things fun but low key.
I've been to GDC four times. This year, I'll be catching up with some old friends among the developers of wonderful games you may have heard of, like Temple Run and Tiny Death Star, as well as with the developers of great games you haven't, like The Blockheads and Ice Cream Jump.
I'm headed to the conference for the fifth year in a row because I truly believe that this wave of independent developers is the leading edge of the gaming industry. The big three–Nintendo, Sony, and Microsoft–have all tried to court the independent spirit of these small dev teams, to varying success, not because they necessarily want quality games, but because they know that in this world of never-ending franchise rehash, customers like you and me want something unique, something special.
GDC is more than "the running of the nerds," as my girlfriend calls it. It's an idiosyncratic gathering of some of the most interesting people I know. Game developers, from large, corporate studios as well as from tiny bedrooms and co-working spaces are all trying to connect with you in the space where you play. They all want to activate your enthusiasm, too, preferably at close range.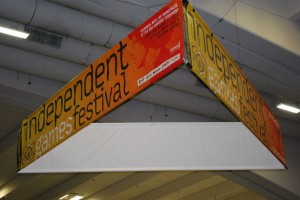 I'll be on the ground live at the show all week, talking to developers, public relations folks, publishers, and other members of the press to really give you a sense of where this new entertainment scene is going.
If you're attending the conference, hit me up on my Twitter account or shoot me an email. I'd love to meet up with you and chat about games, gaming and the conference.
If you're participating from afar, look out for pics on our Flickr account in a special GDC 2014 photo set. Also, I'll be posting to a live blog as often as humanly possible and asking these game designers, coders, artists and writers to tell us all about what it's like to work in the industry.
I'll be checking out the Indie Game Festival, where some friends are nominees, trying to listen to devs from traditionally underrepresented groups and, most importantly, I'll be ferreting out the most interesting stuff on the show floor.
I hope you enjoy the coverage, and can't wait to hear what you think about the conference.
Game on!