This post first appeared in Cult of Mac Magazine's "No Fail iPhone Photography" Issue.
Let's just first say that you all are awesome. We had over 300 entries in last week's Cult of Mac Magazine photo contest, in which we asked for photos taken with an iPhone that exemplified the topic word, "silver."
Y'all filled up our Twitter and Instagram feed in spades. Well done!
We don't have space to print all gajillion photos here in Cult of Mac Magazine, though, so we narrowed things down to our favorite ten submitted photos, with the top three there at the end of our list.
Here's the top seven, in no particular order:
We got a ton of pictures of ice, winter, snow, and the like. What's not silver about winter, really? The ice crystal photo above, by Keith Shirley, was our favorite example of the type. It's got macro-lens focus, solid contrast, and just plain silvery goodness.
The next two photos, from Karan Shaw and Nils Bertrand, both utilize a tunnel to show off their photography chops. The playground climbing rings just visible in the second shot seem to call out to come play, while the hazy motion blur and scattered light in the first photo call to mind the desolation of a long drive. Great work.
Speaking of desolation, check out this photo by Nils Bertrand, which we've dubbed "lonely" here at Cult of Mac HQ. Why is she standing there, we wonder, and who is she waiting for. Is this a scene of quiet desperation, or just a cam moment before the storm? We'll never know and we're not sure we want to.
There were quite a few images of silver-haired animals (and people!), but the above, by B. Stiefer, just really spoke to us. They look so dignified, so still, and so (yes) silver. The window they sit behind only adds to the mystery: are they waiting for someone? Where are they? What are they looking at?
Interesting perspectives were all the rage with many of our submissions, making the viewer take a look at objects, buildings and landscapes with a fresh pair of eyes. The jewelry piece above (at least, that's what we think it is) calls to the viewer with smooth, sinuous, arabic curves, shining out with perfect contrast. Solid work by Kelli Klymenko.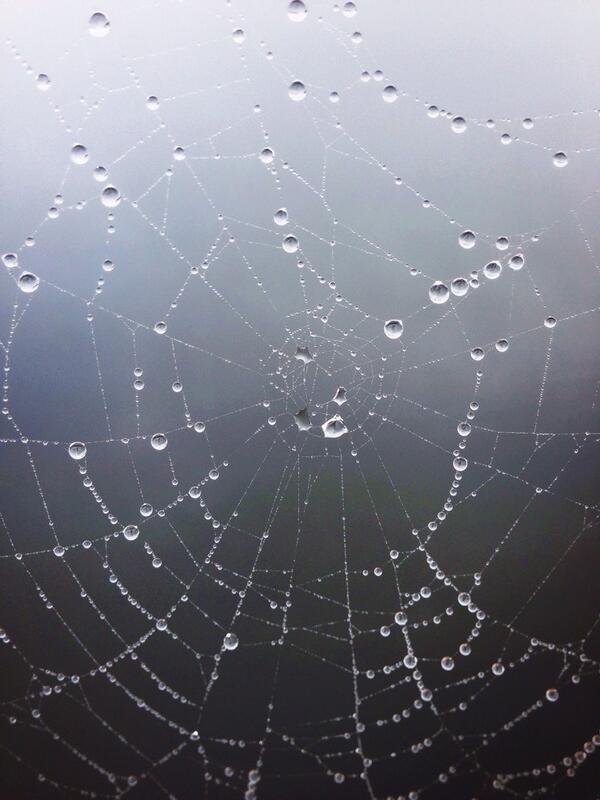 What is it about spiderwebs that we find so alluring? The dew drops on this submission by Anthony Tulliani cling with dogged determination, holding on to the gossamer thread of the arachnid food trap.
The Winners
Now, on to the top three submitted photos. While all the photos we received were fantastic in their own right, the following three photos resonated with us the most.
Third Place
Taken in an Apple Store in Ginza, Japan and submitted by Welner C. Sulit, this pitch-perfect perspective photo combines the silver of our contest directive with the company we all love, without being heavy handed or commonplace. We love it, and hope you do, too. Welner wins an Olloclip lens of his choice, plus an iPhone Quick Flip case.
Second Place
Get it? Silver? The Lone Ranger? We figured you would, and we loved the whimsy in this photo from Mac F on Twitter. The contrast and use of light and shadow draws your eye through the Apple logo right to the mini-figure in a brilliant use of flow and negative space. Mac F wins two Olloclip lenses of his choice along with the Quick Flip case, as well.
First Place
Ansel Adams might enjoy this homage to his work, with an image submitted to us from Twitter user kvelaoras. The landscape is swirling around, broken by the straight yet organic lines of a wooden fence. The shadows in each opposite corner frame the entire scene to create a perfect moment in time, silver and cold. The photographer here wins the first place price of Olloclip telephoto , 4-in-1, macro 3-in-1 lenses and the Quick Flip case for such a wonderful image.
Thanks again to all that participated. You can get a look at all the entries with a search on Twitter or Instagram for #CoMSilver, as well.