This story first appeared in Cult of Mac Magazine
I was almost out of gas. I was also almost out of cash. I needed to find the cheapest source of fuel for my beat-up ride so I could get downtown to meet a friend for coffee. I pulled up GasBuddy, and within one tap I found the closest, cheapest gas station near me.
Once I gassed up, I hit a sweet parking spot just a few blocks away from the coffee shop. I launched Honk, swiped across the top to set the time on the meter, and took a photo of my car to make sure I could get back to it.
Sure, fine, it's not a flying car, but this is as close to the future as this old beater is going to get, and it's all thanks to my iPhone and a suite of apps.
All the talk about Apple's iOS in the Car initiative, plus all the cool future-car stuff going on at CES and the Detroit Auto Show this year has really whet my appetite for some future-car shit.
Look, I'm really not a car guy. My ride is a crappy old Subaru Forester from 2001. It was swank, back then, but its time has passed.
Like a lot of people, I'm driving less and holding on to my car longer these days. My ride has over 114,000 miles and a starter that acts up in the frigid Anchorage mornings, even with the engine block heater. But in the course of one week and less than $20 spent on apps, driving it became a much more pleasurable endeavor. Inevitable caveat: Your mileage may vary.
As a driver, I don't worry too much about bells and whistles. Hell, my car barely has a horn. It does have heated seats, though, which is damn important in the climate I live in.
But every now and again, I get into a friend's car. A newer one, right, with all the cool stuff. Bluetooth stereo connection, fancy on-board car diagnostics, front and rear camera with backup assist and collision detection. You know, the magic of the car of the future. And I want this stuff.
So I went in search of the apps that could take my current ride to the next level. I found a few that were ok, a few more that were fantastic, and a couple that just plain sucked. Let me share my journey with you.
The Epic Journey
First up, I needed some air in my tires. What better way to keep track of this stupid maintenance routine than with an app?
Car Minder Plus from Josh Monroe fills that need quite nicely. It replaces that stupid log book that I never fill out in my glove compartment, helping me track the things I need to do to keep this clunker running for another few years.
If you have more than one car, congratulations! You can track as many of them as you like in Car Minder, tracking stunningly important things like every time you change your windshield wipers, get gas, change your air filter, or get the stupid brakes replaced for some ungodly amount of money. No, seriously, you can.
Once you've recorded all this stuff, you can easily email yourself (or your mechanic, if they live in this future with you) a copy of all the ephemera you've kept track of via this fairly comprehensive three dollar app.
My tires were full up, I think (I have a crappy gas-station air gauge that never seems to go past 25, unless it's on the right front tire, which is when it shoots up to 36 or so. I hate car maintenance), so it was time to get a tiny bit of fuel in my rig.
GasBuddy is slick. Launching it gives you an easy "tap here to find the nearest gas station and prices nearby" screen, along with a place to type in city, state, or zip codes to compare gas nationally.
I only had to drive a block or two to find the cheapest gas in a decent radius from where I already was. There's no reason to drive all the way across town to save a nickel per gallon, so I just sorted the results by how close the stations were to my current location. You can, of course, sort by price if you're the nickel-saving type, I suppose.
Once I had fuel and tire air, it was time to jet (and I use that term liberally) over to my coffee date and park the car. Downtown Anchorage is notoriously difficult to find parking near anything fun, so I tapped open Honk, my new favorite parking app.
Honk, by Math Game House (for some reason), is skeuomorphism at its best, with a digital version of a parking meter. You swipe across the top to set your virtual meter's time to match how much you have left on the real-world meter, and Honk will notify you at various customizable intervals to let you know when you need to sprint skiddingly across the ice back to your car to fill that skinny monster meter with your hard-earned coin.
It also includes a slick map interface that lets you know how fast you have to sprint based on the distance you are from your parked vehicle, along with some nice icons that let you find the nearest Cafe, ATM, Gas, or Parking Lot.
In-Car Appification
Let's talk about using the iPhone in the car, though, OK? The car of the future will have a pretty in-dash screen, hopefully powered by iOS, with all sorts of voice-control and connections to outside cameras, thermometers, and satellites, I suppose.
My car of the right now has none of that shit, so I had to make do with a couple of apps to mimic the future. I decided to test this hypothetical time period while on a task of incredible importance: picking up my kid from middle school.
The first app I tried, the bizarrely named TripAlyizer, was a buggy piece of crap that I'd never wish on my worst enemy. It crashed, burned, and took my car backwards in time. No, really.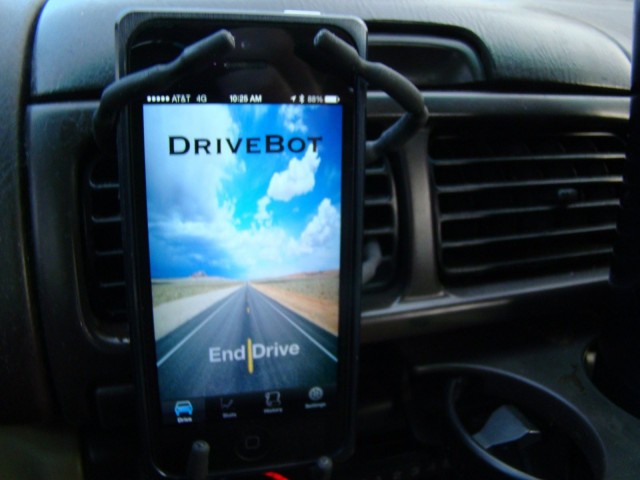 Grabbing DriveBot was my saving grace, though. You launch this bit of drive-analysis appware with a tap, tap "Start Drive" and then tap "End Drive" when you're done. It's that simple. They won't let you mess with it while driving, which is kind a cool thing, though my eighth-grade passenger was heavily bored with the hands-off the iPhone ban while we were in the car.
The app analyzes your driving data over time, measuring your speed and distance and plotting it on a map and a graph. It's a neat way to keep track of how well you manage repeated routes, like the ridiculous every-day drive of drop off and pick up from school, am I right? You need to use DriveBot at least five times before it will graph anything, so be patient, OK? Jeeze.
[avocado-gallery ids="264503,264505,264504,264502,264501,264500″]
Once I picked up said kid from said institute of learning, I decided to further her education with a vital bit of information about driving in a city: speed traps. Trapster, by Reach Unlimited, is a fantastic bit of software that doesn't just keep you from speeding when the law is watching. In fact, Trapster works like another app you may already use, Waze, by allowing signed-in users to report things like accidents, speed traps, traffic jams, and the like, but it has many more options, like ice on road, fooded road, narrow bridge, toll booth, and more, including a symbol to inform other, cooler drivers about a potential electric vehicle plug-in station. Man, I'd like an electric vehicle.
After Trapster, Waze just seemed, I dunno, weak. It took a lot longer to set up, and I had to engage my 13-year old co-pilot's help to create a user name and such, because doing that while you drive is just plain not cool. And probably illegal.
You know those cars with the front cameras to help you park your big gas guzzling cars of the future? Yeah, I don't have one of those.
iOnRoad, from the company of the same name, gives me a similar experience for a measly five bucks. I strapped my iPhone into the holder that usually hangs just to the left of my auto's cup-holder and jammed it into the space between my windshield and dashboard to aim the iPhone camera out my front window. Future-car, here I come!
The app works surprisingly well, even with the hacked-together set up I, well, hacked together while driving to get my other kid from his elementary school. iOnRoad acts like one of the fancy-schmancy front bumper cameras and detects how fast you're going and how close stuff is in front of you. It has a handy, easy-to-learn color coding. Green means you're just fine and can continue cruising at speed. Yellow means, technically, "slow down, tiger," and red means, well, "too late, you're gonna die." So try to keep it from being red, OK?
Of final note here is an app called Witness from Snoring Dog Limited which may be my favorite developer name as I sit here with my pug every day to write.
Anyway, Witness sits in your car, staring out the front of your windshield like iOnRoad, but it records your driving session. If you get in an accident, it automatically turns on, recording what happens from there. If you just want to capture up to an hour of your illegal hot street racing tournament, you can, along with the date, time, speed, location and g-force your old lemon of a car manages to wheeze up to. Oh, wait, that's my car. Either way, Witness is a great, car-centric app that will keep record of you getting arrested for speeding for a mere ninety-nine cents, so it's probably worth every penny.
The car of the future, today? Maybe not, but I sure do use my iPhone a lot more in my craptastic Subaru. I'm also much more prepared to tell my mechanic what's wrong with my car, or–at least–the last time I changed the oil (hint: never).
These apps may not transform that old beater into a Tesla roadster of any kind, but it sure beats having to pay for the insurance on one of those bad boys, no?
This story first appeared in Cult of Mac Magazine