SmartPlane by TobyRich
Category: Bluetooth airplane
Works With: iOS devices
Price: €69
While there are a whole lot of smartphone-controlled helicopters on the market, there are surprisingly few smartphone controlled planes available. It is this niche that German toy company TobyRich is hoping to fill with its recently launched SmartPlane.
For those of us who grew up on a 1980s diet of Top Gun, this is your chance to "buzz the tower" again and again — all using your iPhone, and done from the comfort of your own home.
What It Is
An intelligent SmartPlane, controllable via Bluetooth using your iOS device. Designed predominantly for indoor use, its lightweight but durable polypropylene plastic foam body means that it is unlikely to do any damage to your furniture in the event of a crash.
The Good
The controls are straightforward — easily controllable using just one hand — and there's the option of turning on an addition FlightAssist mode that automatically makes corrections during flight to stabilise the aircraft. Piloting the SmartPlane is done using a freely-downloadable app, which presents a virtual horizon that allows you to control the plane's 256-level proportional rudder simply by tilting your iPhone or iPad. Setting the plane up to begin with is the essence of simplicity: switch your Bluetooth on, boot up the app, and you'll be flying in no time. As well as controlling the direction of your plane, the app also allows you to increase and decrease throttle, along with revealing remaining battery life.
Speaking of battery life, the SmartPlane is fairly impressive in this capacity — with half an hour of flying time on a single charge (albeit limited to soaring and gliding), or five minutes at full throttle. Impressive stuff!
The Bad
As noted, the plane is fairly lightweight. I listed that as a plus-point above, but it's also worth noting that the upshot is that you don't feel like you're getting a whole lot for your money. Don't get me wrong: what you get here is good, but it's also expensive and arguably overpriced. While I didn't have any experience of it breaking, the plane's relatively flimsy foam body makes this seem a reasonable possibility.
The Verdict
The SmartPlane is a lot of fun. Sure, it's a toy, but it gives a surprisingly satisfying flying experience — aided by the fact that its design means it flies a lot slower than many RC planes, making for easier maneuvering. The price tag is a little steep given what it comprises, but this would make a fun gift for the flight-loving iPhone owner in your life. (Or possibly just a late Christmas gift to yourself.)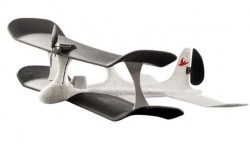 Product Name: SmartPlane
The Good: Easy to set up and use. Good fun.
The Bad: The price is a bit wince-inducing, particularly for what amounts to a foam toy.
The Verdict With that being said, it's a whole lot of fun. And, hey, a toy plane you control with your smartphone is pretty much worth the price of admission on its own.
Buy from: TobyRich

[rating=good]