Snooze iPhone Alarm Dock by Distiluinion
Category: iPhone dock
Works With: iPhone 4/4s/5/5s/5c
Price: Varies
It's the weekend tomorrow, which for most people means that you can ignore the alarm when it goes off in the morning: hitting the snooze button on your iPhone and treating yourself to a few more hours of well-deserved rest and recuperation. Thanks to designers Distilunion, you can do it in style too — courtesy of their former Kickstarter iPhone alarm dock, the Snooze.
Here's how it measures up.
What It Is
The Snooze describes itself as "the slap-happy alarm clock dock" for your iPhone. It's not really an appcessory as such: the big rubber snooze button on top simply smacks the volume button of your iPhone — held in place in a wooden dock — which in turn activates the snooze function on the majority of alarm clock apps.
The Good
Machining and materials are of high quality — and everything from the flexible snooze bar (available in black or white colors), to the grippy rubber base, to the hole in the backboard to keep your charger out of sight, smack of design that has been well thought through and executed.
While you can use a range of alarm apps (including the default iPhone one) the best experience comes from the freely-downloadable Snooze Alarm App. That's because the well-design app includes a range of features, such as different clock faces and alarm sounds, as well as varying snooze lengths. The app also features accelerometer support, which lets you increase the sensitivity so that simply tapping the snooze bar will activate your alarm — even without physically depressing the button.
The Bad
There really isn't much negative to say. The rubber snooze button carries a strong chemically smell straight out of the packaging, although this fades after a few days and is only noticeable at very close range.
It's also worth noting that many iPhone cases will be incompatible with the alarm dock, since a bulky shell for your iPhone will stop the snooze bar from coming into contact with the two volume buttons used to control the snooze feature. Perhaps a tad on the expensive side, too.
The Verdict
You could, I suppose, argue that the whole idea of turning your iPhone into a physical alarm clock is a bit unnecessary — since your device already comes with a built-in alarm feature. If you do accept the Snooze's premise, however, this product is all good — with very little that's bad or ugly to say about it.
The most important quality to look for in an iOS accessory is just what you would search for — and expect to find — in an Apple product: functionality and good design. The Snooze iPhone alarm dock has both in spades. It's difficult to argue that it's an essential accessory, but it's certainly a good one, and gives your iPhone a home on any self-respecting bedside table. (Propped, no doubt, on top of your well-worn copy of Jony Ive: The Genius Behind Apple's Greatest Products.)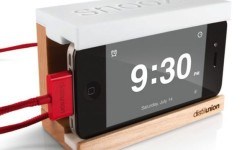 Product Name: Snooze iPhone Alarm Dock
The Good: Minimalist designed and the kind of functionality that has clearly been thought through. What's not to like?
The Bad: Snooze bar initially had a strong plastic odor. Maybe a bit on the expensive side.
The Verdict: Perhaps not an essential iPhone accessory, but a pretty great one nonetheless. And any excuse to sleep in longer than usual (we were testing it, you see) is good with us.
Buy from: DistilUnion (US) / OneWiseMac (UK)
[rating=good]