LAS VEGAS — Home security, solar-powered gadgets and health accessories will be big technology themes of 2014, if what's on show at CES is to be believed. At the kickoff media event here, manufacturers provided first peeks at their wares for the new year.
Here are some the best gadgets we saw:
Kirk H&J showed a demo of its foldable wireless charging pad called the Inpofi Wireless Charging Board. Combined with a charging case, the board charges your iPhone wirelessly.
EnerPlex debuted the solar-powered Surfr battery case for the iPhone. The case will keep your iPhone topped up, and in an emergency,a n hour of direct sunlight will provide enough charge for a 10 minute phone call.
Boostcase makes a range of fashionable iPhone cases, including this Hybrid Power Case, a battery case that doubles as a credit card holder. The Boostcase is a two-piece design with a thin snap case that the battery sleeve snaps onto. After charging, the battery can be removed and stylish accessories like a small pocket pouch or a wallet can be attached. I loved the Boostcase line because of their versatility and color combinations.
The Eton Rukus Xtreme is a solar-powered Bluetooth speaker. It's rugged design is intended for outdorrs, and its internal battery can be used to powert he mjusicor recharge other devices. It recharged in five hours by solar and three hours on an outlet.
This is like musical pajamas for your ears. The SleepPhones cozy fleece wireless speaker headband is great for listening to lullabies or covering up a snoring partner. The companion RunPhones are designed for running.
This is the Wellograph — a wellness watch. It's an activity tracker with a built-in heart-rate monitor, so it can measure your activity and its intensity. It even lets you know when you have been sitting idle too long. The watch is well made in aluminum and a scratch-resistant sapphire crystal display. It's a nice looking watch.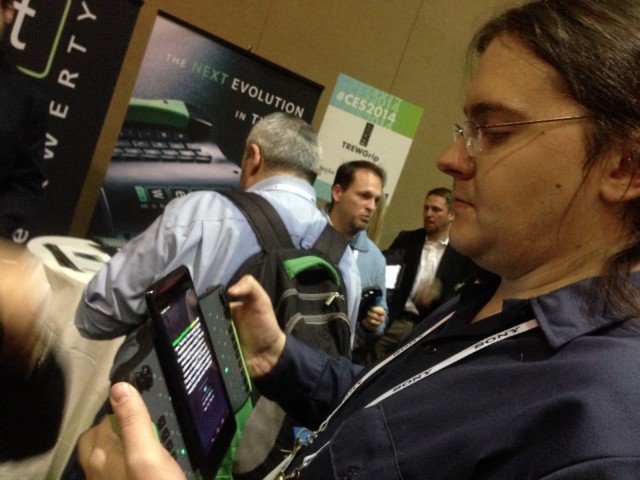 The TrewGrip is a mobile keyboard with a twist — the Qwerty keys are on the back. It works with any Bluetooth device but is desgined for smartphones and mini tablets for typing on the go. More here.
The Kolibree toothbrush claimes to tbe the first "connected toothbrush" that imporves your brushing habits. Not only does it track how often your brush your teeth (or not), it claims to know what parts of your mouth you missed or pay enough attention to.
The Holi lamp is an iPhone-controlled lamp with a wide0range of lighting options. It includes a dawn simulatorthat gradually increases the amout of light ina  darkened bedroom, just like the sun coming up.
Netamo's June is a bracelet that measures your exposure to sunlight. Billed as "a personal sun protection coach," the bracelet's UV sensor (which looks like the kind of  big jewel the Kardashians would like) reads your exposure to the sun and reminds you to apply sunscreen.
Prong's PocketPlug case has a pair of AC-outlet plugs on the back for quickly plugging your iPhone into an outlet. A lot of people thought it was a battery case, but it simply replaces your standard charging brick and cable. It's a bit bulky but is dead easy to use and reduces the amount of clutter you have to carry.
Schwinn's CycleNav bike navigation system is a simple turn-by-turn navigation device. Download the app and type in your destination. Attach the CycleNav to your handlebars and the three bright LED arrows on top will point you in the direction you need to go. It tracks your routes and calories burned, and doubles as a headlight as well.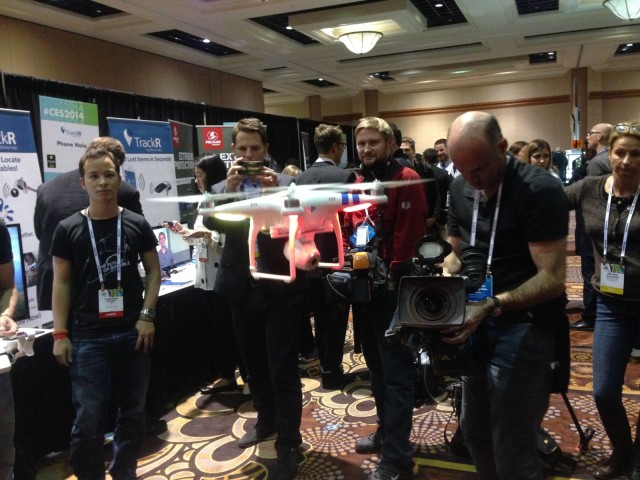 DJI's Phantom 2 Vision drone is a flying HD camera that can fly for 25 minutes and flies up to 20MPH. It includes a sophisticated controller that connects to your iPhone so you can see where you are going, but it can pretty much fly itself.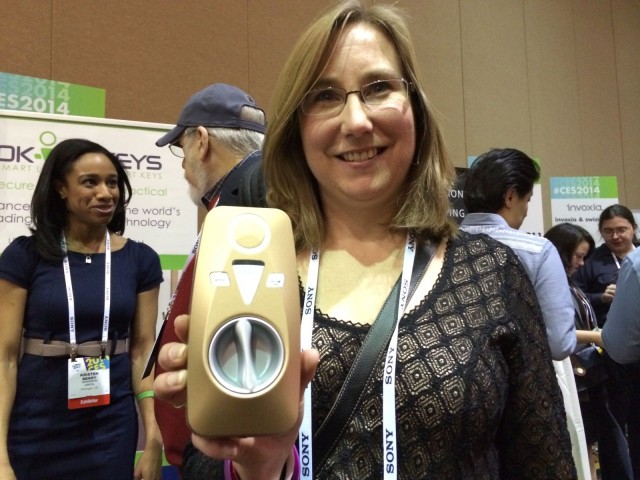 Okidokey's Smart-Lock will open and lock your door with your iPhone. Share with family and friends and it will notify you when guests enter your house.
Known for the AR Done, Parrot is widening its line of robots with a cool iPhone-controlled robot called the Jumping Sum. It jumps over 2.5 feet high but always lands back on its wheels.