Google finally launched an official Play Music app for iOS back in November, giving those with an iPhone the ability to access all the music they've uploaded to the Play Music service. All of your music is streamed to your device over the web, so you don't need to worry about storing it locally and taking up precious storage space.
Play Music also supports Google's All Access subscription service, which gives you unlimited access to millions of songs. You can create custom radio stations from any artist, album, or track, and enjoy as many songs as you like without skip limited. It also provides recommendations based on your taste, and handcrafted playlists from Google's "music experts."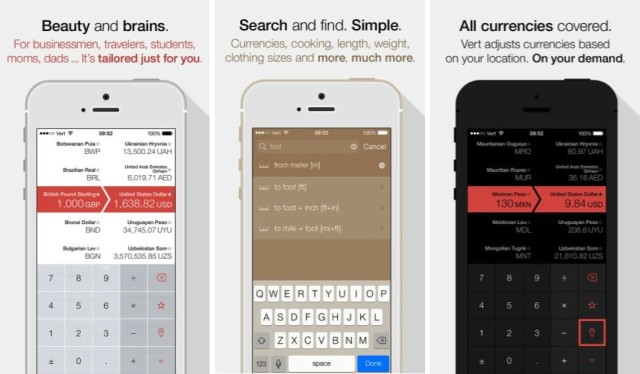 Vert is an extremely useful unit and currency converter with a wonderful design that looks right at home under iOS 7. It's not just the same as every other unit converter on the App Store — it's customizable and it supports all kinds of units. For example, you can work out what your shoe size is in China, convert bra sizes, and even calculate rock climbing grades.
There are over 900 units to convert in 33 categories, plus 164 currencies that automatically update. You also have a whole host of color themes to choose from, and Vert is compatible with both iPhone and iPad.
I'm not sure how I'd manage without 1Password anymore; it remembers all the things I'm likely to forget, including logins and passwords for my favorite websites, important information like software licenses and membership numbers, and even bank account and credit card details. It allows you to create more secure passwords for everything that's important to you, and then not have to worry about forgetting them.
1Password uses military-grade 256-bit AES encryption, so it's incredible secure, and its built-in Auto-Lock feature ensures that even if your device is lost or stolen, you data cannot fall into the wrong hands. It has a built-in web browser that will automatically enter your login details or credit card information when you need it, and with iCloud and Dropbox sync, you data is with you no matter which iOS device you're using.
You can also buy 1Password for Mac for $49.99.
If you use your iOS devices to write anything, you really need Writer Pro, the successor to iA Writer, from iA Labs. Not only does its super simple design let you work without clutter and distractions, but its powerful features make writing and editing on an iPhone or iPad easier, faster, and more enjoyable.
It supports full text search, offers word count and reading time information, and has an awesome "Syntax Control" feature that scans the syntax of English text and highlights adjectives, nouns, verbs, adverbs, prepositions, or conjunctions. There are handy keyboard shortcuts that allow you to navigate the app and its features without lifting a finger, and you can use iCloud sync to ensure all of your documents stay up to date across all your iOS devices.
Check out Writer Pro in action in the video below:
Writer Pro from Oliver Reichenstein on Vimeo.
Nike+ Move is exclusively for iPhone 5s, because it takes full advantage of the M7 co-processor to record all your movements. It doesn't use GPS, so it's kind on your battery, but it still provides accurate information for "when you move, how you move and where you move." It then turns that movement into NikeFuel and challenges you to beat your NikeFuel average every day.
You can see your most active times throughout the day, see how today's activity compares to yesterday's, and see how you moved — with breakdowns for walking, running, and other activities. Nike+ Move also boasts GameCenter integration, so you can compete with friends and other Nike+ Move users nearby, and compare scores.
What's On Your List?
So, that's our list of the best iOS apps of 2013. Do you think we're missing anything? Tell us your list of top apps from the past 12 months in the comments section below.