The first thing you'll notice about Star Trek: Trexels (if you're a massive nerd like me anyway) is that all the little pixel people are wearing Original Series uniforms while the overall game interface is the LCARS system from The Next Generation. A minor complaint, but it is a gripe I feel keeps Trexels from reaching its true potential.
Star Trek: Trexels by YesGnome
Category: iOS Games
Works With: iPhone, iPad
Price: $2.99
You play as a Starfleet admiral tasked with searching for the USS Valiant that disappeared in the currently unexplored Trexel system. The Valiant may have been destroyed but Starfleet doesn't know for sure. So you hire a crew and send a barely constructed starship out to explore uncharted space. Nothing bad whatsoever could happen!
Trexels plays a lot like Tiny Tower but sprinkles in instanced battles to go along with managing little people. While exploring the Trexel system or walking around on plant surfaces, you'll encounter enemies or hostile technology that you have to battle or shut down. Each instance starts by gathering energy points as the crew fires on the enemies, and you can spend those points to slow down the damage they take or have them concentrate fire. Battles are a simple distraction that helps keep your interest in the missions and ship building going in the most tedious free-to-play moments.
At times, Trexels feels like it is trying to do too much to overcome comparisons to Tiny Tower and Tiny Death Star. In so doing, it reaches too far to cater to every player's nostalgia, which results on Borg encounters with an Original Series crew. One nostalgia attempt that works well is that George Takei narrates the game, and Hikaru Sulu is one of the first crew members you rescue. While some attempts to please players will come across as heavy-handed, a cute pixelated adventure lurks beneath the sometimes confusing LCARS layout.
So embrace adventure and don't think about why you can build 10 Forward on an Original Series ship.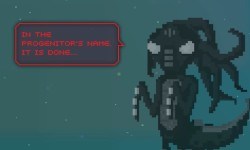 Game Name: : Star Trek: Trexels
The Good: Cute pixels and space adventure go well together. Plus, George Takei is involved!
The Bad: The LCARS computer system is a bit difficult to read and totally out of place.
The Verdict If you can put aside the continuity frustrations in Trexels, you're in for an adorable pixel adventure that rips at your nostalgia.
Buy from: Star Trek™ Trexels – YesGnome, LLC

[rating=game3]