Now that you've played a game about making games to death (Game Dev Story)why not move on to conquer the world of Rock and Roll? Band Stars is another in the long line of simulation/micromanagement games that boils the creation process down to statistics and creativity points. The difference here is that you're running a band rather than a company.
Band Stars by Halfbrick
Category: iOS Games
Works With: iPhone, iPad
Price: Free
If you've played any creation sim before, you're likely familiar with Band Stars' format. You start by creating your band from a basic set of characters then can hire more as you can afford them. Characters have unique stats that determine how useful they are in the recording process, and you can increase those stats through training.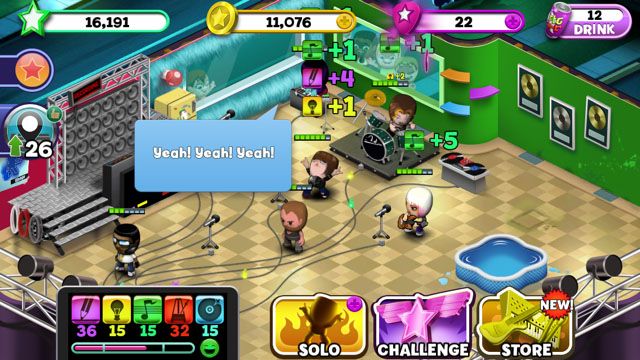 Where Band Stars differs from, say, Game Dev Story is that it incorporates free-to-play currencies into the creation process. When you make a hit song, you get paid in coins, and when your band members are creative, they generate inspirado points. You use coins to hire band mates and upgrade equipment, and inspirado points help the musicians perform solos while recording.
So far, these free-to-play currencies haven't been too much of a hassle to manage. When you run out of inspirado, you can have characters jam on instruments for a while, or complete some of the progression objectives listed in the challenges menu at the bottom of the screen. Coins are very easy to get as long as you keep matching music styles up with the appropriate song subjects. So, no sappy "punk" love songs, guys.
What I don't particularly care for is how you have to manually recharge your band's energy. You can either drag them one at a time to a hot tub, or pump them full of energy drinks. In many sim games like this, characters often leave for a while or become inaccessible while they recharge so you don't have to focus on keeping them fit for duty all the time.
Instead, Band Stars turns recharging into yet another free-to-play money pit as the energy drinks you feed to characters not only recharge them, but also unlock VIP floors to house your extra band mates. You can earn energy drinks the same way you earn coins and inspriado, but they are the most precious of all the currencies and should be used sparingly. If you don't use drinks regularly, it's easier to stock up!
Game Name: : Band Stars
The Good: Striving toward making the highest grossing song is predictably addictive but no less fun.
The Bad: Three levels of free-to-play currency can hinder gameplay if you play for any length of time.
The Verdict Band Stars is a neat spin on the mobile sim genre that is greater than its free-to-play parts.
Buy from: App Store – Band Stars – Halfbrick Studios

[rating=game4]