Disney's mobile gaming efforts are surprisingly good! Stack Rabbit joins Where's My Mickey and Where's My Water as another easy-to-use app designed for children, but with enough appeal that adults can find plenty to enjoy. In Stack Rabbit, you play as a kindly rabbit trying to take care of his sister's children while she's on vacation. To do this, you have to hastily stack veggies on your head and hop away before the snoozing guard dog wakes up.
Stack Rabbit by Disney Mobile
Category: iOS Games
Works With: iPad, iPhone
Price: Free
Each round you're limited to a certain number of stacks and have to gather matching sets of vegetables to clear the level. The poor overworked rabbit can only carry so many vegetables at once so planning out your matches is a must unless you want to sacrifice time by dropping all the food you've collected.
The real charm to Stack Rabbit is how both the dog and the hero's family send him letters as you make your way through the  game. The dog's dramatic typewriting fury as he declares that he wasn't sleepy but simply biding his time is genuinely chuckle-worthy, as is the rabbit's sister complete lack of concern for how long she's been away from home.
Stack Rabbit is also a free-to-play game, meaning you can pay to add more moves to each level or add additional power ups, but this balance is handled very well. You can finish each level without ever paying for items, and even if you to run out of lives, you won't be waiting for hours just to take another turn. So few free-to-play titles strike a reasonable balance between tempting players to pay and making the free version of the game worthwhile. Stack Rabbit's humor and cheery style supersedes all that "pay to continue" nonsense.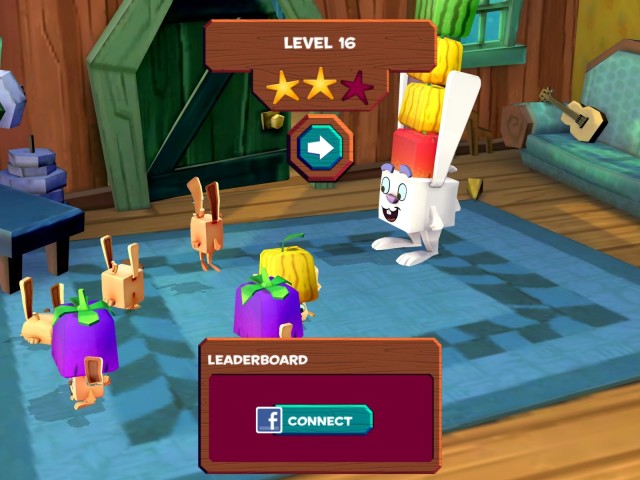 But if you do fail a level, it's better to just restart so you can rework your gathering strategies. You'll get more points by playing tactfully rather than rushing to the end.
Game Name: Stack Rabbit
The Good: An adorable art style and intiutive vegetable stacking combine to make one cute little puzzler.
The Bad: It's easy to fail out of levels if you don't study the level layout before you start stacking.
The Verdict It's cute, it's fun, and offers up easily dismissed microtransactions. You can play Stack Rabbit to your heart's content without ever giving Disney a dime.
Buy from: APP STORE (LINK)
[rating=game4]