Flip byDoxie
Category: Scanners
Works With:Mac, iPad
Price: $149
I have one of Doxie's neat candybar-shaped paper scanners, and it's great for getting through piles of paper. I can scan bills, flyers, photos and even whole books – I ripped all the pages from a beloved but falling-apart cookbook and scanned the pages one at a time to make a PDF.
But for anything less sheet-shaped, it's useless. And often the next best option – your iPhone's camera – isn't much better. You have to focus it, hold it steady, and somehow wedge the pages of your Moleskine notebook open with one hand while lining up your scanning app with the other
That's the slot that Doxie's Flip wants to fill. It anything that's not a big sheet of paper. Although it can kinda do that too.
What It Is
The Flip is a battery-powered (4xAA, supplied) flatbed scanner (don't laugh) with a detachable top flap and a see through base. It scans direct to an SD card making it totally portable, and has a tiny LCD screen to make sure you got the scan more or less right.
It can save at 300dpi or 600dpi, and paired with the free Doxie app it can perform OCR on text, and export your scans to Dropbox, Evernote and more. You can even slide in a Eye-Fi card and scan wirelessly straight to your iPad, although you'd better bring some spare batteries along if you do that.
So far, so regular-flatbed-scanner. The twist here is that when you take the top flap off and flip the scanner over, you can use it kind of like a camera. A camera that you have to press flat up against the subject, but still. You can use this to scan swatches of wallpaper, or anything you like. And in December there will be a software update for the app which will let you stitch together huge images by scanning things one section at a time. I'm planning on heading to the Louvre in Paris and having a crack at the Mona Lisa.
The Good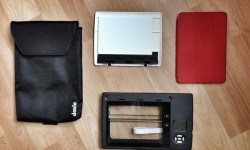 It really is easy to use. Just slide the switch to turn it on (it's a sprung switch that makes it hard to turn on by mistake while it's in your bag), slip in your target piece of paper and hit the go button on the side (the button is placed so that you can use it when you're holding the scanner up in both hands) and the scanning head moves across the image quickly, showing the result on the crappy little screen.
The scans themselves are great. I tried it out on the following object: Moleskine pages; wooden floor; screen-print of Han Solo in the style of Andy Warhol's cowboys; wool sweater; old textured postcards; a repair slip for my bike; a frosted-glass window; The Lady's face.
With the exception of the face scan, which showed too many pores to be aesthetically acceptable, all of these were great. I was most impressed with the scan of the book. The glass panel seems sized to perfectly fit a standard Field Notes or Moleskine page with a few millimeters to spare at the edges. Field notes seems to work best as they're easier to bend open, but whatever you use, you can quickly send the results to Evernote via the Doxie app for OCR of your handwriting.
Or you can just put the SD card into your camera connection kit and import to the iPad: the Flip uses the standard DCIM folder for storage, just like a digital camera, and the files are JPGs.
And I have a feeling that the Flip is actually pretty tough. I bumped it around the place during testing, and have carried it 'twixt office and home in a bike basket and it keeps on scanning just fine (the supplied padded bag helps here, and signals Doxie's intention for you to take it everywhere).
The Bad
The obvious problem is the screen, which has a resolution that makes a fax machine look like a Retina iPad. You will see precisely zero detail on the screen. Then again, it does let you know that you have captured the scan, and it provides enough "detail" to see if the exposure is correct, and that you lined everything up properly.
The Verdict
For receipt and paper scanning, you'll still want the regular slimline Doxie, especially if you travel. And for most purposes you will get by with the camera in your iPhone and Evernote's rather excellent document scanner function. But if you scan a lot of photos, or like to sample things around you without having to worry about focus, composition or exposure, then you might like the Flip. Its also peerless when you flip it and start scanning sections of magazines or books, or posters for music concerts you find in the street, or even just your receipts.
And because it scans JPGs to an SD card, you never need go near a computer (the Doxie Mac app is pretty good though).
So this is a tricky one. It's a specialized tool whose specialty can be more or less approximated by other tools. But if you think you might be in the market for such a thing, then you needn't worry about quality. The Flip is inexpensive, not cheap. Now, if you'll excuse me, Im going to go chop open some fruit and vegetable and scan the newly-cut wounds.
Product Name: : Flip

The Good: Crazy fun, very practical, requires no computer, ever. Light, fast, runs on AA batteries.

The Bad: Shitty screen.

The Verdict If you ever plan on scanning something thicker than a sheet of paper, but not actually as big as a sheet of legal or A4, get this. Otherwise buy a Go or One.

Buy from: Doxie
[rating=excellent]