Google stock has risen 13% today, surpassing $1,000 for the first time ever. It comes a day after the search giant announced its earnings for last quarter, which beat Wall Street expectations thanks to a surge in mobile and video advertising that helped increase quarterly revenue by 23%.
Wall Street expected Google to announce revenue of $14.8 billion and earnings per share of $10.34 for the last quarter. Instead, it announced revenue of $14.98 billion and earnings per share of $10.47. Google attributed this to paid clicks advertising which increased by a quarter, the highest rate of growth in a year.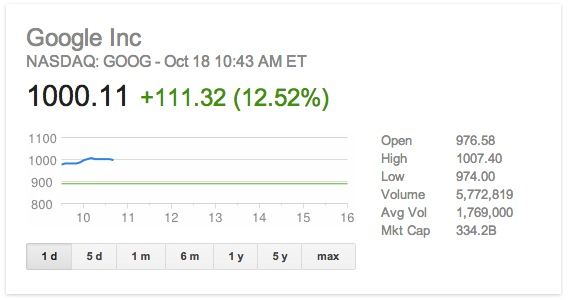 The announcement caused brokerages to raise their price targets on Google stock to between $880 and $1,220. Google is now the third-most valuable company in the world, following Apple and ExxonMobil.
Source: Bloomberg