Wunderlist, the hugely popular cross-platform productivity app that now boasts over 5.3 million users worldwide, got a new feature called Comments this week, which brings the conversation to your to-do list. If you use Wunderlist in a professional environment, you can now discuss tasks and projects with your team within individual to-dos.
What's more, you can now try Comments — as well as Files and Assigning — for free for a limited time, without signing up to Wunderlist Pro.
With Comments in Wunderlist Pro, you can start a conversation within a to-do to ask a question, or get feedback from your team. You can also leave feedback on colleagues' to-dos, or provide them with helpful information that will help them get their to-do done.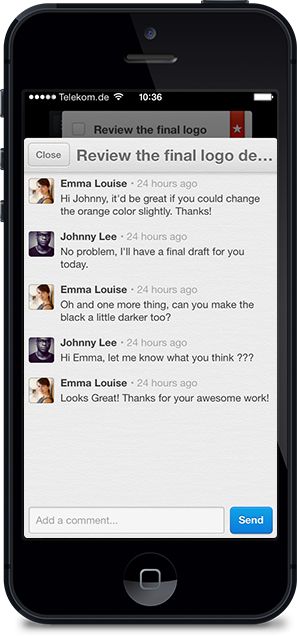 All messages are timestamped and immediately made available for the whole team to review. And every time a comment is added, you'll get a notification to let you know via the Activity Center, email, or push notification on your mobile device.
"Communication within teams has always been difficult. There's countless emails to keep track of, never ending meetings to attend, and endless feedback rounds to document. Yet, up until now there hasn't been one tool that simply allows you to capture everything, from conversations to files, and everything in between," said Christian Reber, Wunderlist founder and CEO.
"Now with Comments, Files and Assigning Wunderlist Pro effortlessly captures all your team's communication in real-time, readily available across all your devices. Wunderlist truly is the easiest and only way to organize both your life and business."
Comments, Files, and Assigning are all part of Wunderlist Pro, a subscription-based service priced at $4.99 a month. However, all three features can now be trialled for free for a limited time. You'll have the ability to add up to ten Comments, upload three Files, and Assign three to-dos — after which point you'll be limited to using one of each per day until you sign up.
Comments, Files, and Assigning are all available now on Android, iOS, your desktop, and the web.