Ever need to send a buddy a quick screenshot or file? How about sending a file from your iPhone to your friend on a Mac?
Getting files from one computer to another is a fairly easy task, what with email and services like Dropbox around, but I've been using Messages to send files to friends, family, and even myself lately.
Here's how to do it.
When on your Mac, find the file you want to send in the Finder, and right-click on it. That's a two-finger-click if you're using a trackpad, or a Control-click if you're using a single-button mouse.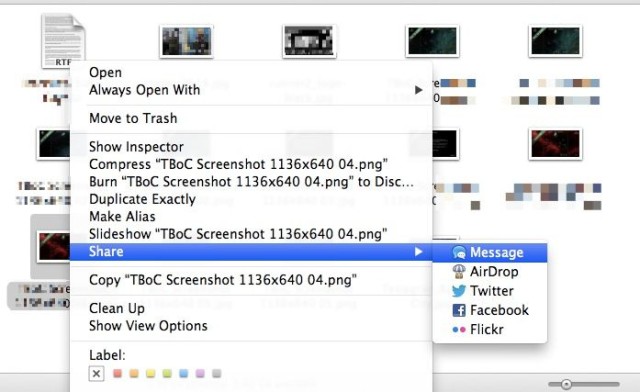 Amidst all the options, you'll see a Share option, which will show you all the ways you can share a file from the Finder, including AirDrop, Twitter, Facebook, Flickr (if it's an image), or YouTube (if it's a video).
To share as an iMessage, simply choose the Message option, and a little Messages window will pop up with a small preview of the file you're sending. Type in any message you want to go along with it, and then type in the name of the person you're trying to send to.
If you're on an iPhone or iPad and want to get an image from your iOS device to your Mac, simply send yourself the Message, and it will show up in the MEssages app on your Mac. Simple!
Via: OS X Daily