1Password has been one of the most essential Mac apps for years, but it hasn't seen a major upgrade since November 2009. Agile Bits is hard at work on the redesign of 1Password 4 for Mac, but they sent us a sneak peek of the reengineered password management app that's been in the making for over a year.
Here's what's new:
We brought some of our best features from 1Password 4 for iOS "back to the Mac" including Favorites, Multi-Site Logins, and iCloud sync
More item types to help you secure even more of your stuff
Our browser extension is now native Cocoa. It's the same for every browser and it packs some great new tricks.
Item Sharing between iOS and Mac apps via encrypted iMessage and email
New menu bar icon
New ways to get proactive about your security. Example: check out the new Sort tool at the top of the item list (see screenshots) with options like Frequency Used and Duplicate Passwords—these are quite useful new ways you can analyze your habits and existing items, then make decisions and improve them
Custom Fields can now be added to most items so you can make them your own
1Password 4 for Mac will launch this fall as a free upgrade to all Mac App Store customers. An upgrade price for customers who bought it from Agile Bits' website before January 1, 2013 hasn't been given yet, but everyone who bought it after gets the upgrade for free too.
The design team says they have quite a few hidden features that they're not ready to announce quite yet, but beta invites are starting to go out now, so we'll know all the details soon enough.
Here's some screenshots of redesigned app:
Browser Extension
All Items
Sync iCloud & Dropbox
Sort By Options
Software Licenses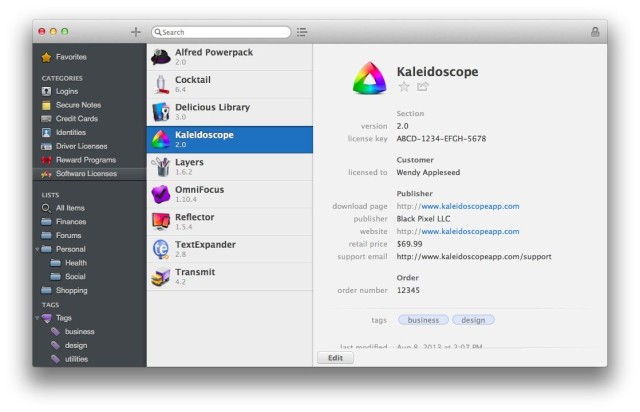 Logins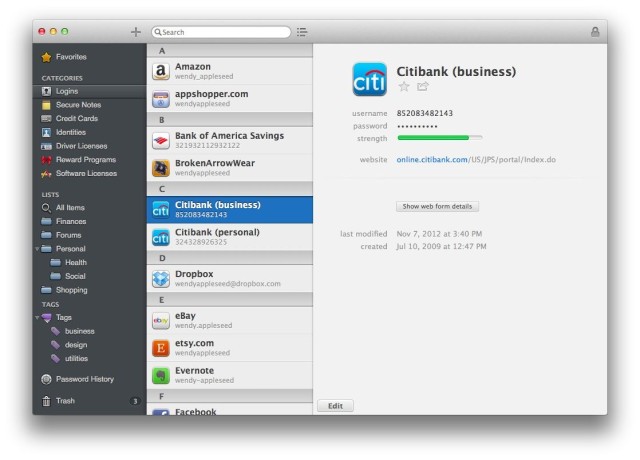 Multi-Site Logins
 Locked
Extension Item Details
Extension Item Anchored