It has the technological sophistication of a sonic screwdriver. Its design elements look as if pulled straight out of another dimension. And there may not be another set of headphones on this planet — or any other — baked with as many ingredients as the Parrot Zik.
But we were curious — would all this tech work? And how would the Ziks sound? So we poked them with a stick, and here's what we discovered. Allons-y!
Zik by Parrot
Category: Bluetooth Headphones, Circumaural
Works With: Phones, MP3 players
Price: $399
What It Is
French company Parrot gathered up practically every technology applicable to headphones — all of which have been tried at some point with varying degrees of success, though perhaps not all within the same form — then hired acclaimed design house Starck (also French) to sculpt a unique form of metal and leather into which they could weave the technological elements.
And there would have to have been a lot of technological weaving, because the Zik contains no less than: wireless Bluetooth technology; noise-canceling through the use of four microphones; motion sensors that automatically pause play when the Zik is removed from the ears, then restart when they're slipped back on; a rechargeable battery to power both the Bluetooth and the noise-canceling features; NFC for instant pairing; and both music and call functions.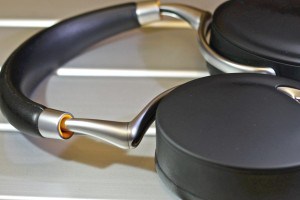 Recharging is handled through a micro-USB port. For those afraid that Cybermen will control their brains if they use Bluetooth, the Ziks can be used just like regular headphones with the supplied detachable cable.
There's also a superb app (iOS and Android) that brings added depth to the Zik's sound and allow for more control.
The Good
That the Zik is strange and unique was apparent even as it was being lifted from the box. The set's sinewy alloy arms look more like Art Nouveau sculpture than consumer technology and perfectly complement the smooth, alloy-accented earcups. The design is tastefully understated yet provocative — a balance difficult to achieve, especially with headphones.
Shockingly, all the tech worked exactly as advertised.
NFC pairing with a Galaxy Nexus was a breeze. Apart from a couple of hiccups, the play/pause action of the motion sensors worked perfectly, pausing playback as I rested the Zik around my neck and starting music up again when I popped the 'phones back on my head.
Shockingly, all the tech worked exactly as advertised.
The biggest surprise was the touch controls. My anxiety around objects with such tech — thanks to traumatic experiences with blots like the Jabra Halo and a certain touch-bezeled GPS watch I've fought bitterly with in the past — was soothed instantly. The Zik's touch surface worked flawlessly. I'd tap the right earcup and a track would play; tap again, it would stop. Sliding a finger vertically adjusted the volume, while sliding horizontally flicked through tracks.
The Zik's noise-canceling isn't top-tier, but is right up there at the top of the middle-tier sets; not as good as the less-expensive, cancel-everything Bose QuietComfort 15, but better than, say, Audio-Technica's ANC-7b. Some chatter and ambient music leaked through at a noisy Starbucks, but sounded as if muted by a few pillows. Certainly quiet enough to work with. The lower the frequency of the noise, the better the 'phones were at killing it.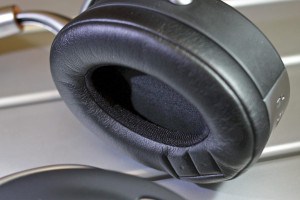 Similarly, any companions with me didn't hear much, as the Zik's thick earcups provided enough isolation to block most sound from leaking out.
It's safe to say that music streamed via Bluetooth to the Ziks sounded better than with any other Bluetooth set I've tested.
But things got really interesting after playing with Parrot's Audio Suite app, which enhances the Zik's sound — either through adjusting the spatial qualities (the app can simulate listening while in a concert hall, a living room, a jazz club or a silent room, and the angle of the speakers can also be adjusted) or fiddling with an equalizer. There's enough adjustment to almost surely suit anyone's taste, though the Ziks were never over-bassy or over-clear.
The battery seemed to last forever; I went through about two weeks of moderate testing before having to plug them in. The app also provides a battery indicator that displays exactly how much juice is left.
The Bad
All that tech and design sophistication comes at a price. This planet sells both better-sounding headphones and better noise-canceling headphones, either of which can be found for less money.
Since the Ziks don't fold, they remain fairly bulky for travel — better bring a big bag, or at least one that's bigger on the inside than it looks from the outside.
The Parrot Zik, it seems, was designed very specifically for use with mobile devices. Unfortunately, the Ziks sound a little flat and colorless without the Audio Suite app to provide some spark — which means they're not ideal when listening to music through a deck, turntable or computer (though this can be somewhat negated through software equalizers included with many PC or Mac app players, like the one in iTunes).
The Verdict
Three groups of people should find this set irresistible: Technophiles who want a set of good-sounding 'phones to play with; upscale consumers who want a set of highly functional fashion-accessory headphones that hits all the right notes; and Time Lords.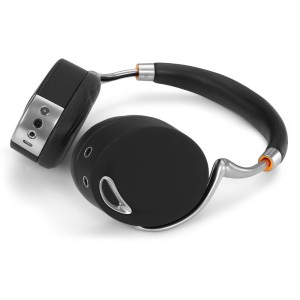 Product Name: Parrot Zik Headphones

The Good: Superior noise-canceling, excellent touch controls and good sound (with customization) in a cutting-edge, wireless form.

The Bad: Pricy, and audiophile purists will find better-sounding cans for the money.

The Verdict: Fantastic! For technophiles, a feature-heavy set worthy of travel through time and space.

Buy from: Parrot
[xrr rating=80%]