Going Live, But Not For Long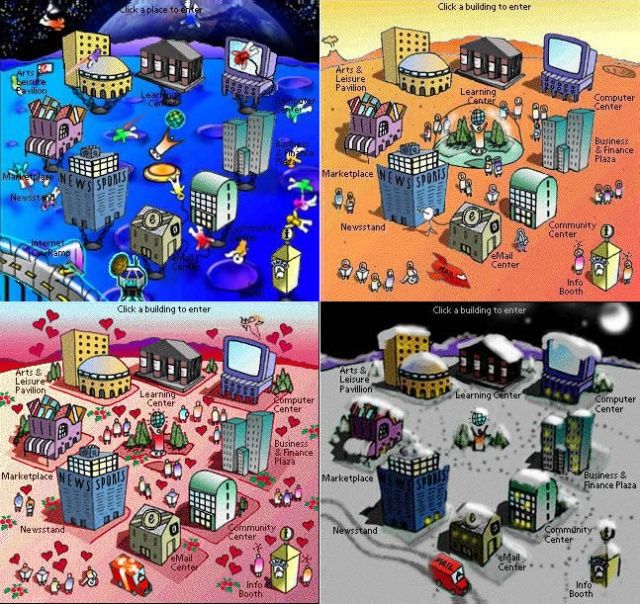 eWorld went live in June of 1994, perhaps a day late and a dollar short, as proto browser Mosaic was released in 1993. Scott Converse, group manager of R&D for Apple Online Services recalls being called into then-Apple-librarian Steve Sissberg's office to see Mosaic and thinking, "Oh, shit. This is what we should have done."
According to Converse, a version of eWorld was created for the nascent world wide web, as well as a walk through, 3D space, but never saw the light of day. "Apple never really 'got' the online services market," he said. "They were so hardware focused, they just didn't think of services as being important."
The lack of support for eWorld, typified by a "zero dollar marketing budget," said Converse, was finally why he left the company. "I actually got a call from Apple a few years back to help them with some online services. I told them there was no fucking way I'd come back to do that."
Peter Friedman remembers the plan for eWorld's future. "The plan was to bundle only eWorld on all new Macs, but Apple eventually bundled Macs with AOL as well. Eventually, the idea was to bring eWorld to Windows, make it profitable, and create an online presence," he said.
The team also began the process of getting away from AOL's backend system and technology. The eWorld village began to have buildings that led to actual internet websites, making it perhaps the world's first internet portal.
But the Apple of 1994 was far away form the return of Steve Jobs and the company turnaround. Apple posted a $68 million loss in the fourth quarter of 1995. The writing was on the wall. "Apple was falling apart – fractured management, fear of money loss," said Friedman. As a member of Apple management, he knew the eWorld project was getting the axe; he just couldn't tell anyone.
The eWorld service ended on March 31, 1996, when it was officially shut down by Apple. The remaining subscribers, like myself, were all given incentive to switch to AOL. Some of us tried out Compuserve and Prodigy, but nothing ever came close to the feeling of eWorld.
Peter Friedman formed TalkCity, now LiveWorld, with Jenna Woodul and Bernie Bernstein, and Trevor Griffiths and Chris Christensen eventually joined the company as well. Scott Converse went on to work at Paramount Pictures in the Digital Entertainment Division.
Personal Resonance, Public Significance
All the team members we spoke to have fond remembrances from their time at Apple and as part of the eWorld team.
"From a personal point of view, it was transformational – I was having a wonderful time with people I'd never have any relationship with," said Jenna Woodul, an original AppleLink Personal Edition programmer and the eWorld Computer Center chat moderator. She currently helps companies manage their own social network presence at LiveWorld.
Peter Friedman believes that the eWorld concept has far reaching effects, into the internet we all know and love today.
The tech isn't just buttons and code and circuit boards," he said. "It's an emotional and cultural experience, it's interacting on an individual and group level. What was different about eWorld is that. The buildings and the stories in it were there to let users feel something from the content programming."
His other point is that many of the people creating the internet today, both on a technological as well as an artistic level, came from the eWorld team, or were influenced by it in some way. When eWord shut down, he said, the people that worked on it went to places like Yahoo!, Salon, and other seminal online services and companies.
Cleo Huggins remembers Apple as a pretty easy going place. While deadlines still loomed, the team of technical and artistic types enjoyed their time, even once going to Disneyland as a staff—presumably to gather material.
"I never needed motivation to come to work," said Huggins. "I wanted to see what eWorld would become. I was happy that it ended up being eWorld, I loved the drawings and the personality. People were doing alternative top level drawings, eWorld in the time of dinosaurs, inner-city eWorld, snowy alpine eWorld."
Ultimately, Huggins said that the best thing about working on eWorld came months after the actual launch. "A user tracked me down and I took his call," she told us. "He wanted to know if I knew of any applications out there that had interfaces like eWorld. He said that he always had trouble understanding and using most interfaces – he had a particular disability that made text oriented interfaces challenging. eWorld on the other hand was easy for him to grok, it just made sense for him."
Chris Christensen, currently working with a mobile payments internet startup company, feels similarly. "Part of the fun of eWorld was that we were right there at the cusp, the dawn of the web," he said. "AOL had the tech, but it wasn't interesting. As that system became more graphical, it was a foreshadowing of where things would go."
Ultimately, eWorld was short lived, yet still sends echoes through the modern internet, which continues to become more and more graphical, more about interaction, individuals, and the power of communication. Like its contemporary, the Newton, eWorld was way ahead of its time, even as it was held back by the technologies and business realities that existed.
eWorld is dead; long live eWorld.
All images courtesy Scott Converse.