The Musubo Mummy is a soft-touch TPU case for iPhone 5 that promises top-to-toe protection and a unique, glossy design. It has a ribbed back that increases grip on your device and maximizes impact protection.
Mummy by Musubo
Category: Case
Works With: iPhone 5
Price: $30
The Musubo Mummy — not to be confused with Loop Attachment's Mummy case for iPhone — covers your volume buttons and sleep/wake button for protection, but provides access to your mute switch, your headphone jack, and your Lightning connector. It also leaves your speakers and rear-facing camera exposed.
It's available in seven bright and pretty colors, and it's priced at $30. Let's find out whether it's worth it.
The Good
The Mummy looks like it should be a bulky case, but it's not as thick as it looks, and it certainly doesn't make your iPhone 5 too bulky. I really don't like cases that add too much bulk — no matter how protective or as practical as they may be — but I've been using the Mummy on and off for several weeks and I really don't mind its size.
I'm also a big fan of the ridges on its back. Not only do they look pretty cool — they're styled on a mummy's beard — but they feel surprisingly comfortable and they add grip. They also add lots of impact protection, ensuring that if your device lands on its back when you drop it, it's highly unlikely you'll see any damage.
The sides of the Mummy are also thick enough to provide drop protection, and they extend around to the front of your device to protect its display, allowing you to place your iPhone face-down on your desk without scratching its glass front.
Unlike other TPU cases, the Mummy is really soft and smooth, and its "premium" glossy finish looks good, and makes it easy to slip into and out of your pocket. It's also very flexible, which means it's easy to apply or remove, and it's bouncy — as you'll find out if you drop it.
The Bad
While the Mummy's glossy finish looks good, you'll have a hard time keeping it clean. It attracts a lot of fingerprints — like most glossy surfaces — and after a few days of use it starts to feel a little… slimy.
The great thing about it being TPU, however, is that you can pull it off your iPhone and run it under the tap without damaging it.
The other problem I had with the Mummy is that its left edge didn't sit straight against my iPhone's display. Take a close look at the picture left and you'll notice that it bends out slightly towards the top-half of the screen.
This is a minor issue that may not affect all cases, but I certainly noticed it, and it annoys me. I don't know why, but I want my iPhone case to be perfect, especially when it cost me £30.
The Verdict
The Mummy is a great TPU case for iPhone that adds lots of impact protection without adding too much bulk. It looks good — if you wash it every so often — and it's unique. If you get one that fits perfectly — without the slightly slack sides — then I'm sure you'll be very happy with it.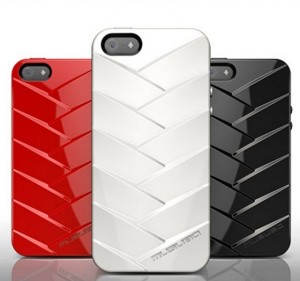 Product Name: Mummy
The Good: Looks good, offers great protection, isn't too bulky.
The Bad: A little costly, attracts fingerprints, not a perfect fit.
The Verdict: Great TPU case — one of my favorites. Mine wasn't a perfect fit, unfortunately, but if yours is, you'll be very happy with it.
Buy from: Musubo
[rating=good]