mŌna by Kubxlab
Category: Stands
Works With: iPads 2, 3 and 4
Price: $30
There would be but one way to make the mŌna iPad stand seem more like an adult toy, and that'd to make it in pink. As it is. The suggestive-looking stand comes in black, white and red. I have been using one on and off for a few months (strictly for iPad support purposes) and found it to be excellent in some aspects and silly in others. Would you like to know more?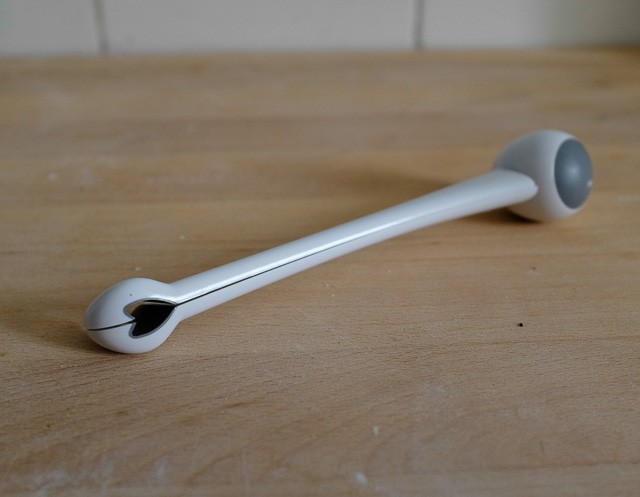 The mŌna is a a kind of swooping plastic curve that looks like it could be a spaceship from a sci-fi movie, complete with folding warp nacelles, or something. The big ball section is a hinge, and from there two legs open to wrap their ankles around the waist of your full-sized iPad (any model except the original fat one).
Two legs open to wrap their ankles around the waist of your full-sized iPad.
You can use it in both vertical or horizontal orientations, although vertical works best, and when it's folded the mŌna is small and light enough to toss in a bag, or to sit in pants back pocket.
The Good
Once set up, the stand is super steady.
The mŌna is small, sturdy and very adjustable. Its v-shaped, rubber lined cutouts grip the long edges of the iPad, and the rubberized edge of the ball makes it non-slip. Not that it'll do much slipping anyway as it forms a rigid triangle with the iPad and the table beneath.
You can slide the "feet" up and down the sides of the iPad to get different angles, from almost vertical to around 45˚ (this will get in the way of the mute button though, so you might want to flip it and use the iPad upside-down instead).
Once set up, the stand is super steady. Shoving the iPad with your finger just makes it slide away. Thanks to the design you can't tip it over.
The Bad
The problem is that you can only really use the stand in portrait mode. It works when tipped on its side, but the foot gets in the way and sits under one end of the iPad, making it tilt. This could be pretty annoying for movie watching.
The shape of the stand when folded also makes it a little awkward to carry,. It's not thin enough to slide into an iPad case, not short enough to disappear into a pocket. In a suitcase or big (m)(p)urse, though, it'll disappear.
The Verdict
If you think you'll like this stand, then buy it. It's just $30, and is easily tough enough to outlast your iPad. If you are looking for compact versatility, though, my recommendation is still the PadPivot, which remains the best iPad stand I have used (and still use daily).
On the other hand, if you're travelling alone and want to pack just one gadget to keep you company on those long nights alone, then this is probably your best bet. Just remember to clean it in the morning.
Product Name: : mŌna
The Good: Small, tough, versatile. And a great conversation-starter: for conversations about sex toys, anyway.
The Bad: Portrait only, unless you have a crick in your neck.
The Verdict Great, but limited. If you like its style, then don't worry about it's build-quality – it's just fine.
Buy from:
[rating=good]