If you've ever had a party with people in various rooms of your house, maybe even outside, Bem's Wireless Speaker Trio was made just for you.
Wireless Speaker Trio by Bem Wireless
Category: Cases
Works With: iPod, iPhone, iPad, Mac, or anything with Bluetooth
Price: $299.99
The Trio is a neat idea: connect your music source (iPhone, iPad, iPod) via Bluetooth to its base station, then move any of its three rechargeable satellite speakers anywhere in your home, up to 120 feet from the base, and they'll fill that room with music from your iDevice or Mac.
But while Bem's Wireless Trio is a great idea and was awesome when it worked, my tests brought to light some problems I just couldn't ignore.
What It Does
Plug in Bem's Trio base station to any outlet, pair it with your music streaming device of choice, and it's ready to start pumping out the tunes.
Each speaker has individual volume controls, so, though you can control audio levels directly from the device you're steaming from, each of the Trio's sound cubes can be set to the right levels for the space it occupies.
It's also pretty useful being able to pick up a speaker and move it to any room you're in, especially if you're entertaining guests.
Those into ambiance might also like the glowing white light that projects from each speaker's bottom side. This lets you know the speaker is on with a quick glance, but it's also useful during charging, because the light will beat red while its batteries are topping off.
When not in use, everything sits nicely together in the base station, all speakers recharging and being made ready for your next soiree.
In Use
Here's the kicker, though, I experienced a lot of cut-outs and audio blips while using the Trio. These annoying cuts happened a lot while moving speakers, which use a Bluetooth connection to connect to the base, but I also experienced them when the satellites were moved to rooms where walls blocked their signal.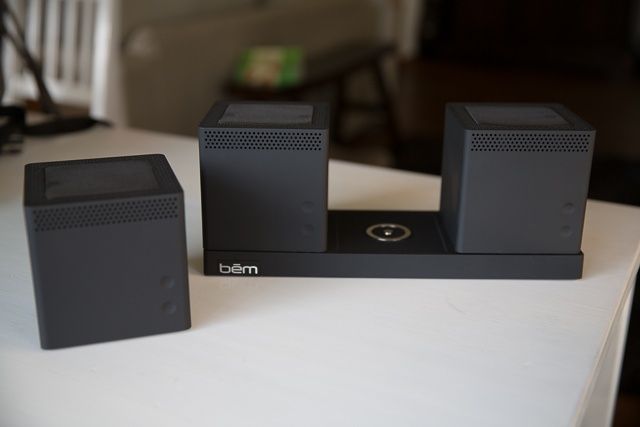 Worse—and far more annoying—were the audio issues I heard when my iPhone was moved more than 4-5 feet from the base. And putting said phone in my pocket only exacerbated those issues, making the Trio all but unusable. The problem is much less prevalent when your audio source is sitting out on somewhere, though, who wants to take their iPhone out of their pocket so it can sit in a room babysitting the base station?
Far more annoying were the audio issues I heard when my iPhone was moved more than 4-5 feet from the base.
I would have much preferred Bem's Trio had an AirPlay connection between device and base, and Bluetooth between base and speakers. AirPlay uses WiFi, which is a much more reliable and longer-range signal than Bluetooth. As is, I found I could reduce audio disconnects and burps by keeping my iPhone out of pocket and within 5-6 feet of the base station, but that meant having to get up and go to my iPhone to change tracks.
When the Trio is working, though, it's a great product. Having one music source easily stream to any room or patio is fantastic for parties, and the Trio speakers look great both in their base and sitting on a table. Bem gets a virtual high five from me for the industrial design.
The sound quality from each satellite speaker is also as you might expect: pretty good, but not award winning. You won't care, though, especially if you're using the Trio during a party where people are laughing, cheering, and doing keg stands.
Product Name: : Bem Wireless Speaker Trio
The Good: Steam music to any part of your house easily and wirelessly. You'll love using the Trio during parties.
The Bad: Expect audio issues, especially if you keep your iDevice in your pocket.
The Verdict If you like to bring music with you from room to room or have guests over often, Bem's $300 Wireless Speaker Trio make just be for you
Buy from: Bem
[rating=good]