As you may already know, Google Reader will shutdown as of July 1, so now's the time to look for a new RSS reader. If you're a longtime user, you may not be familiar with the other options available to you, but don't worry — there are plenty out there, so you don't need to go without your news.
We've compiled a list of the best cloud-based and local news readers around to help you find the best solution for you. Check them out below.
Cloud-Based RSS Readers
If you read RSS feeds when you're on the go, and on multiple devices, you will want a cloud-based RSS Reader — a lot like Google Reader. There's no doubt about it, NetVibes is one of the most popular cloud-based RSS readers around, offering a very simple user interface, and tons of features.
NetVibes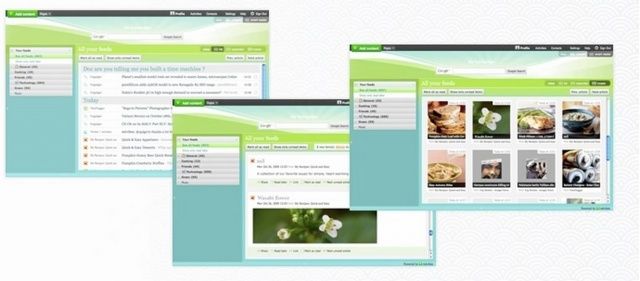 NetVibes allows you to monitor apps, feeds, sentiments, and tweets all in real-time, making it a totally unique RSS reader. You can choose from over 200,000 apps and create custom layouts so you can display information in a way that suits you. NetVibes allows easy access from your iPad, iPhone, computer, and Android devices.
There are three different packages available for NetVibes: the first one is the basic package, which is free of charge and allows you to monitor apps in real-time, personalize your layout, and access your RSS feeds on your mobile device. The premium package is $4.99 a month and give you access to analytics, tagging, curation, alerts, sentiments, and a search feature.
The final package is a teams package, which you probably won't need. There is no set price for this one — you have to enquire about having it set up, but the teams package allows access to all of the features stated for the basic and premium packages, in addition to collaboration software, access control, and enterprise software.
NewsBlur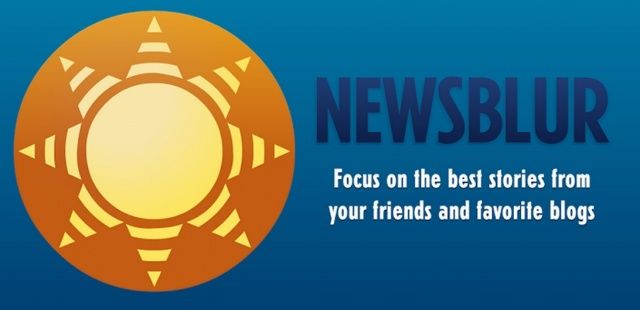 NewsBlur is also a great cloud-based RSS reader you might want to consider. It has an interface very similar to Google Reader and is extremely easy to use — and even easier to set up. To get started all you need to do is visit NewsBlur's website, create an account and import your Google Reader feeds.
NewsBlur also has an app for iOS and Android, which will sync your feeds between all of your devices. NewsBlur currently offers two packages, the first package is the free account and entitles you to list 64 RSS feeds, allows you to view 10 stories at a time, and only allows 1 site update at a time.
The second package is the premium account, and this entitles you to unlimited feeds, allows you to view all stories at once, and allows 10 site updates as often as you want for only $1 a month!
Feedly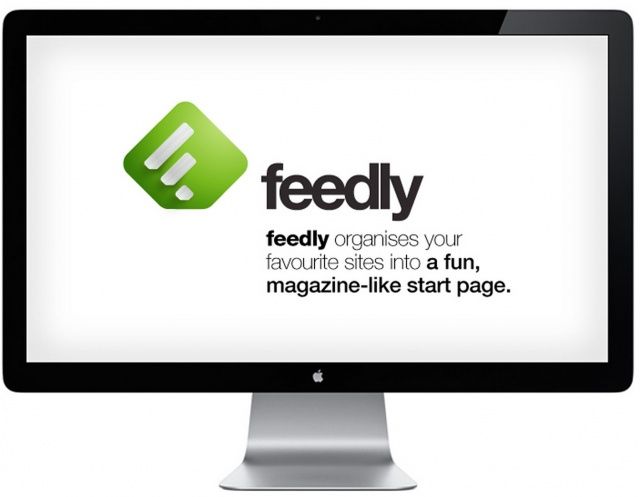 Feedly is a bit different to Google Reader, but still a great competitor! Feedly is a less traditional RSS reader, and more 'newspaper like.' To use Feedly you need to download an extension for Google Chrome or Mozilla Firefox, but this allows you to seamlessly sync your feeds between browsers and mobile devices. It also has loads of social network integration for Facebook, Twitter, and more.
Desktop RSS Readers
If you don't really like the sound of using a cloud-based reader, your second choice is to go for a desktop reader. Desktop readers bring you loads of features, the only downside is, you can't sync your feeds between different devices. If that's not an issue for you, then read on.
FeedDemon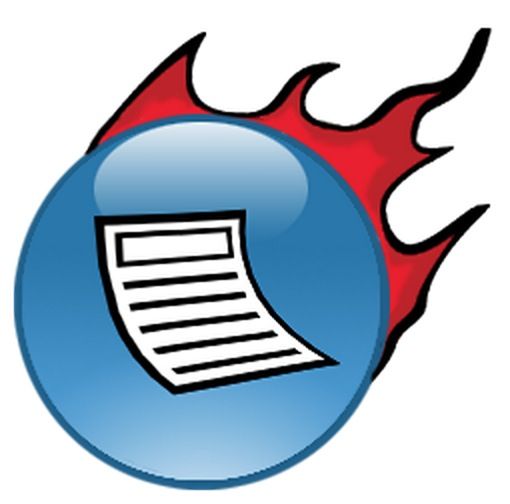 FeedDemon offers a high level of customisation enabling you to set keywords and automatically be alerted if any of your set keywords appear in a feed, regardless of whether you're subscribed to the feed they appear in. FeedDemon has another extremely useful feature that enables you to subscribe to podcasts, and it will automatically download and store them in a directory where they can be saved to your iPod, iPad, iPhone, or another device
Cream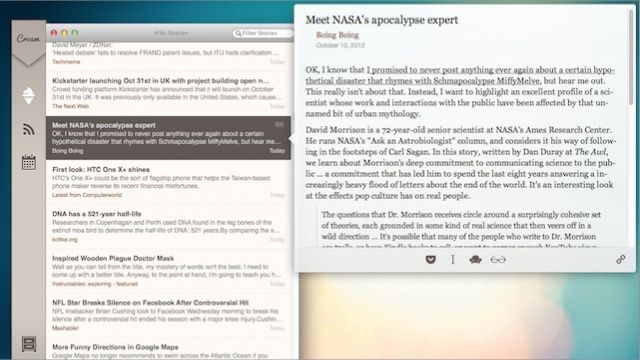 If you're a Mac user, check out Cream. Cream does not require a Google Reader account meaning it will continue to function perfectly long after Google Reader is dead. It has one totally unique feature — a smart filter that provides you with stories that suit you best and filters out stories that aren't suited to your reading style. Cream is available to download for a one time payment of $4.
Transferring Your Google Reader Feeds
Now that you've chosen a new RSS reader, it's time to get it up and running. You could add all of your feeds one-by-one — but that would be crazy. Instead, transfer them from Google Reader (before it's dead!) by creating a Google Takeout website. It sounds complicated, but it's not.
Here's what you need to do:
Head to Google Takeout's Reader page and click the Create Archive button. It'll start building a file with all your feeds, the people you follow and starred items.
Once it's finished building, click the Download button that appears to get your subscriptions.
Open up the ZIP file you just downloaded and go through the folders inside. Inside the Reader folder, you should see a file called subscriptions.xml. Extract that to your desktop.
Open up your new feed reader of choice, head into its settings, and find the Import option. Select it, and choose the subscriptions.xml file you just extracted. All of your feeds should appear in your new reader.