Until I tried Neuhaus Laboratories' T-2 vacuum tube amp, I thought I had a pretty good speaker system hooked to my Mac. It was a three-piece ensemble with a pair of nice satellites and a honking big subwoofer. It pumped out 200-watts and I thought it sounded great.
But then I hooked up the T-2 Amplifier, and it's literally night and day. I know this sounds like an old cliche — but it's true. Even a half-deaf old punk like me (too many ear-piercing concerts) can hear the difference. It's striking — and it's absolutely glorious.
Based in Miami, Florida, Neuhuas Labs is a newcomer to the audio industry. Its $795.00 T-2 Amplifier is a blend of old and new technology. It's powered by trusty old tubes for warm, rich amplification. But it has a pair of digital inputs and a built-in DAC (Digital to Analog Converter) so it plays nice with your computer.
Plug in your Mac via its one of its digital ports (USB or optical) , and it acts like an external sound card: the DAC allows the T-2 to bypass your machine's internal sound circuitry.
There's several tube amps on the market but few with digital inputs. Most have older analog jacks, which forces you through hoops to play music on your computer. The T-2 is designed with Mac users in mind. It's "made to bring audiophile quality sound to people who use iTunes and especially Mac users as we have incorporated an optical connection," says Neuhaus' founder and CEO, George Golik.
The optical port (SPDIF/Toslink) is designed for newer Macs with digital audio out, as well as Apple's Airport Express. Hook the amp to an Airport Express and you have a high-quality stereo that can stream music wirelessly from any Mac in the house. The system can be controlled by an Apple remote or iPhone/iPt running Apple's Remote app.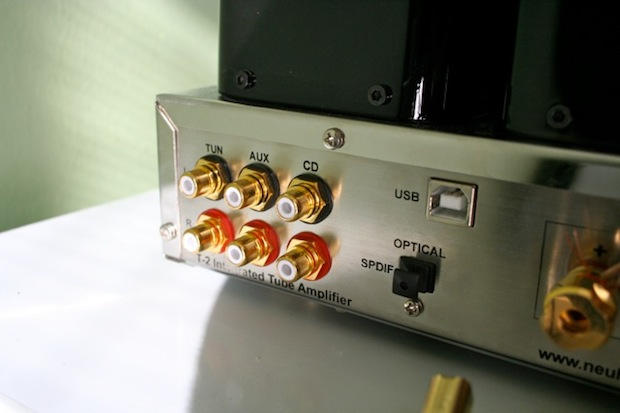 I'm no audio snob
I'm definitely no audiophile. I love music, but I'm happy listening to a cheap radio or a pair of iPod headphones. Or so I thought.
I was skeptical about the benefits of vacuum tube amps until a buddy set up a listening test a few months ago. First he played a song from his iPod through a solid-state amplifier and a pair of good-quality computer speakers. It sounded great. But when he played the same song through the tube amp, I almost fell off the couch. It was much, much richer and warmer. It sounded like a crest of warm ocean surf breaking over my quivering earbuds.
So I had high hopes when I hooked up the T-2 to my Mac (via USB) and a pair of Polk Audio Monitor 5A speakers, which date from early '80s. I like bass, so I also wired up an old JVC subwoofer. The T-2 is two-channel at 20-watts per. The subwoofer is wired to both speaker outputs.
Audio Heaven
Crank it up and woah! What a sound! It's gorgeous. Fat and meaty. Beautifully detailed, with a solid kick from the sub. There's no comparison to the old computer speakers. They're nasty and horrible now, like a cheap tranny radio. I'm in audio heaven. Got it up mid- loud and it's as clear as a bell. I like that bass though. It's really a pleasure to listen to music like this. What have I been missing all this time?
Of course, a heavily compressed MP3 will only sound worse through this amp, but these days, newer digital formats like FLAC or Apple Lossless are as good as LP recordings, or so Golick contends. It certainly sounds fantastic to me. Most music is still recorded for two-channel stereos, and you can always listen to your uncompressed CDs.
Though the T-2 is not cheap, Golik says it's equivalent to tube amplifiers that cost $3,000-$4,000, and likely don't include digital inputs.
The amp is built like a tank. Weighing 20lbs, the body is made from stainless steel with a piano-black finish on the front and a mirror finish on the sides. Round the back, there's three gold-plated analog inputs for hooking up other stereo components, and the speaker connections (also gold-plated).
As befits a $800 piece of equipment, the T-2 is nicely packaged. It includes both cables, a pair of white gloves and a remote. In addition, Golick is so confident his amp will impress, he offers a 15-day return policy, shipping included, no questions asked.
Now Everything Else Sounds Like Sh*t
Of course, the T-2 Amplifier has ruined my life. All my other audio equipment now sounds like ass. The home stereo, my kinda-fancy iPod earbuds, even the Harman Kardon soundsystem in my car, which is  highly rated, all sound wanting.
What am I going to do? I can't afford this. Help me, I'm turning into an audiophile.
The Specs:
T-2 Amplifier is a true Push Pull Vacuum Tube Amplifier (not solid state)
Output- 20W x 2
Frequency Response-10-30KHZ
Output Impedance-4ohm-8ohm
Harmonic Distortion-1.5%(1KHZ)
Input Sensitivity-1000mv
Input Impedance-50Kohm
Signal to Noise ratio-85db
Power Consumption 100W
Weight-19.8lbs 9kg
Dimensions-11.5 (W) inches x 11.5 (D) inches x 6 (H) inches
Tubes 4-6N7 2-6N1 2-6N3
Homemade output transformer is made with two special designed EI steels and the OFC wire by our technicians. It has high frequency range with low distortion.
Stainless Steel Case
Japanese ALPS Motor potentiometer
Steel Black Piano Black Glossy Finish Front PanelMirror Stainless Steel Body
Removable Flat Black Steel Tube Cover/Clear Polycarbonate Side Panels
Volume Remote Control
Slow Start Power On
USB and Optical/Toslink/SPDIF Input
3 Rear Gold Plated RCA style input jacks
Gold Plated speaker connectors