Pinbook is an excellent iOS client for the excellent paid anti-social bookmarking service Pinboard. Imagine if De.licio.us had never been sold to Yahoo and had instead started charging money to keep your bookmarks tagged and organized online. Further, imagine that the developer kept a Twitter stream that read something like the crotchety ramblings of your drunken (and outspoken) uncle. That service would be Pinboard.
The (non-affiliated) Pinbook client has just been updated to v1.3, and with the update come some fantastic new features. Let's take a look:
First, just what is Pinbook? Or Pinboard, for that matter? Pinboard is a for-pay bookmark-saving service. The price goes up the more users join, and it currently costs $10.01 (a one-time fee). You can tag the bookmarks, search and browse your saved sites, and share the results (if you really want to).
The advantage of Pinboard over just hitting Cmd-D in your browser is that you can access your bookmarks form anywhere, and Pinboard integration — like Instapaper and other well-loved services — is built in to many third-party apps, making it easy to tag and save.
And Pinbook is a Universal app which lets you save to and search your Pinboard account. It works using a bookmarklet in your browser. When you tap it, the current URL is sent to Pinbook. The app's main feature is speed, and even from a cold start on a slow machine it launches fast. You then add your tags, a note if you like, and hit done. Meanwhile, your existing bookmarks are loaded and cached in the background.
New In 1.3
All this was available before. Yesterday, v1.3 added a bunch of neat new features.
Tag Browsing
Now you can browse your bookmarks by tag. You could always search on a tag, but now you can hit a little inbox/file drawer icon at the bottom of the bookmark list and a new Filter window appears. This will let you access all your unread, public or private bookmarks by group, or browse your list of tags by name. Tapping any of these will open the list of tagged web pages in the main view — a full-screen list on the iPhone or a sidebar/popover on the iPad.
You can also narrow your search by filtering the list as you type, just like iTunes. Typing multiple tag names in the main, persistent on-screen search bar will show you any pages that match either of those tags. Doing the same in the new tag browsing panel won't work.
Editing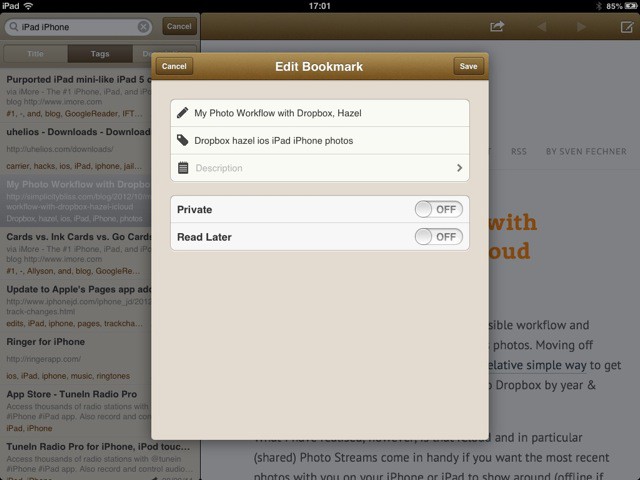 You can now edit tags and bookmarks right from the bookmark screen. Tap the little pencil-and-paper edit icon and you get a popover that lets you change the page's title, tags and description, as well as toggle the public/private status and the Read Later status1. Tapping and holding on a bookmark in the main (sidebar) list will bring you the same edit sheet.
Pinbook has jumped from my iPad's Utilities folder to my first home screen.
Also new is the Edit function in the new Filter window. Hit the button and you can delete tags (leaving the bookmarked pages still saved) or edit them. I tried editing two similar tags so they were now the same (ipad and iPad), but they didn't magically conjoin, which is a shame — this would be a fast and easy way to correct all my previous mislabeling.
Bulk Editing
You can also bulk edit bookmarks for two attributes: Read/unread status and Delete. This is done using the Edit button in the sidebar list/popover and tapping the little empty checkboxes to select the pages you want. You can then delete them or mark them as unread. This unfortunately doesn't work within a search, so you can't drill down to a certain tag before commencing the bulk edit: it only works in the master list.
You can, however, use the new Filter screen to populate this master list with, say, unread bookmarks. Then they can be bulk edited.
Sharing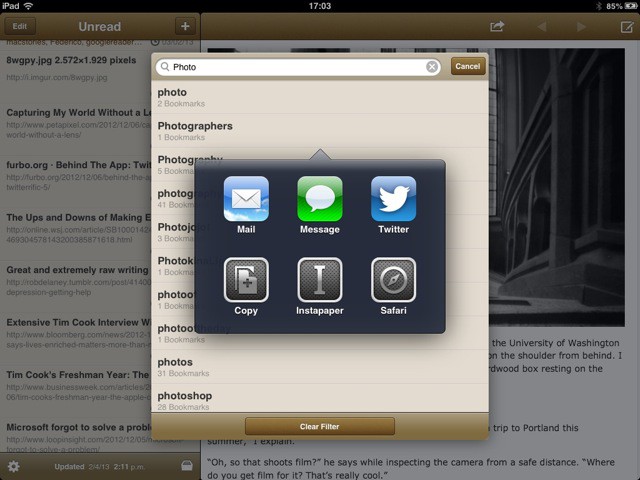 Sharing has also been improved. Tapping and holding a bookmark offers a popover sharing option, and if you're currently in the new Filter window, tapping and holding a tag will immediately bring up a sharing popover with the usual options: Twitter, mail, message, copy your clipboard, add to Instapaper and open in Safari.
Weirdly, though, there seems to be no way to quickly bookmark a link when you're viewing pages in the built-in browser. The only method seems to be to copy the link's URL via long-tap, then hit the "plus" button for a new bookmark, and then manually paste the URL into the correct field. The strangest part of this is that if you launch the app with a URL on the clipboard, it will offer to bookmark it for you. I expect this might be fixed in an update.
URL Actions
Finally, Pinboard has added support for URL actions, including the x-callback-URL scheme. This means that another app can send it a URL and a description and — thanks the the x-callback part — Pinboook will send you back to the original app when you're done bookmarking.
Over at MacStories, Viticci has already made a couple of bookmarklets (one for Chrome and one for Safari) which will take your selected text and send it as a description to Pinbook, and then return you to the browser after you add tags and save the page.
Thanks to its speed, and now its neat search and editing features, Pinbook has jumped from its position in my iPad's Utilities folder to my first home screen. I used it daily to *save* bookmarks, but now I use it to browse them, too. I have been a paid user for a few years, and I have almost 6,000 bookmarks in there. Being able to track any one of those down in a few seconds is worth the ridiculously low $5 for the Pinboook app, plus whatever pocket change I paid for the Pinboard service itself.
You can use Pinboard as a lightweight version of Instapaper".↩