As an Apple guy with a whole lot of photography gear, I'm usually forced to slug my computing devices in one bag and DSLR and accoutrements in another while traveling. I hate doing that.
Think Tank's new rolling camera bag, the Airport Navigator ($249), with two wheels, a telescoping handle, and space for a DSLR, lenses, and an iPad and Macbook Pro, seemed to be the perfect portable home for all my devices to live. But how well would it perform on the road? I decided to pack it full, take it to Vegas, and cart it around with me on the over-crowded floors one of the world's biggest technology shows, CES 2013, and find out.
The Good
The Airport Navigator (AN, if you will) doesn't look big, but it holds a huge variety of gear. The dedicated DSLR cubby cradles your cam and its attached lens perfectly, and the bag also has ample space for 3-4 lenses, your strobes, your bulbous blowers, and other photo accessories. Want to also bring along your 15-inch Macbook and iPad? The Navigator has a clever spot to store those too.
Yes, clever. After 5 confusing minutes of configuring the AN's internal compartments, it occurred to me that the layout of this bag is actually unusually intelligent. Here's why: though your camera and gear can be accessed via the bags main compartment, items at the top of the bag, like your DSLR, can be quickly accessed by a zipped flap on the topside of the AN. This allows for extremely fast access to your camera.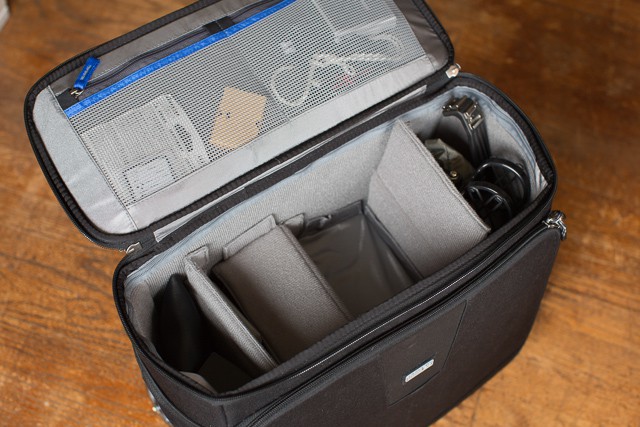 The main compartment is also brightly architected. Usually only used to keep a bag closed, the inner flap of the AN's main compartment is sleeved, and features a padded space for a Macbook and iPad. This intelligent design means getting to your computer or tablet is fast and easy, and it makes readying your gear for airport security much less of a hassle.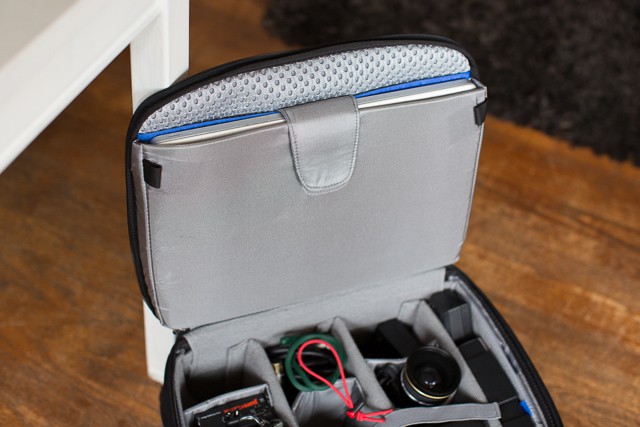 Rounding out the AN's storage are two super-stretchy elastic pouches on the outside sides of the bag, and two internal mesh pockets for flash cards and the like. The side pouches are great because they can be jammed with those extra items you always seem to have with you, like water bottles or the iPhone cases shoved into your hands by eager CES marketing folks.
Airport Navigator also upholds its pedigree in its quality of construction. Think Tank bags are known for being tough and water resistant, and I can vouch the AN earns checks in those boxes. I used my review unit on the floors and avenues of CES in Las Vegas, carting around all my camera and video gear, tracking the AN through airport terminals and grimy, muddy side streets; it performed flawlessly.
Travel with more than one bag? Navigator comes with a low rider strap designed to sling around another rolling case so you can pull both one-handed. And because the AN meets most domestic and international carry-on requirements, it's easy to travel with. I had no problem shoving mine into the storage bins of my domestic-bound jetplanes.
The Bad
Since the AN could easily carry over $10,000 in computing and photographic gear, I'd love to see it include some security features, like built-in zipper locks and a security cable to help prevent thieves from rolling it away.
I'd also like to see Think Tank add a tripod cup to this model. I had my tripod with me while testing the bag and had to ghetto-rig it to the AN's telescoping handle using elastic ties. It wasn't a good solution.
The Verdict
The Airport Navigator is yet another smart bag from the team over at Think Tank. It's small stature, telescoping handle, and multi-access main compartments make it an excellent solution for those who travel with their gear and want super-quick access to it while they're on the go. If that describes you, the Navigator might serve you well.
[xrr rating=90%]