LAS VEGAS, CES 2013 – With so many companies competing for attention, there's plenty of clever, crazy and just plain weird here at the Consumer Electronics Show. Take the gentleman above: his real name is Gary Fisher but his stage name is Sir Gaga. He claims to be the most photographed performer in Las Vegas. For those of you who like his style, he also has a fashion company called Nazrat (Tarzan spelled backwards)

There are many photo booths here but this one by the Fantapper app is my favorite. Who doesn't want to stand next to a tall beautiful showgirl and pose for a picture? just look at this mans beaming face. He's given giving the thumbs up.
To demonstrate their tough iPad cases, Lifeproof has a photo booth where folks can dress up as firefighters, a profession that needs sturdy iPad cases. No one has ever seen a firefighter using an iPad, but you get the idea.
Here is another Lifeproof photo opportunity with a cute nurse injecting shots injecting a showgower pretending to be a patient. I don't know where his iPad is, maybe he's lying on it.
OlloClip — which makes a clip-on iPhone lens — also has a fun photo booth with Vegas accessories as props.
Accele Electronics has a tricked out party golf cart with a big-screen TV. It's fun but not very practical, unless you live on an island. Plus watching TV and driving seems dangerous, even in a golf cart.
JVC has the band Train Company, who hail from Chicago, perform a few songs. They have a nice urban edge to them, which draws a younger crowd.
Blue Link has an auto simulator with a gesture-based control system; kinda like Microsoft's Kinect. You make a key-turning motion with your hand, and the engine turns on. I asked jokingly if you had to learn sign language to use it.
iHeart radio has the famous DJ Prostyle from NYC spinning hit songs. People are going wild and dancing in the aisles. No not really.
Chrysler is showing off their spanking new, decked-out LAPD police car. As nice as it is, I still wouldn't want to ride in the backseat.
Audi is showcasing the e-tron Quattro race car. It's total eye candy and the men are drooling all over it.
This attractive lady is model Amy Marshall, who was passing out signed posters of herself for the company RE Audio. In addition to hiring a hot model, RE Audio is also passing out large inflated surfboards which they can't keep in stock. The surfboards are fun all right, but no fun to carry around the packed show floor all day.
Kicker has an old school military green car to pose with.
This nice girl with the showgirl headpiece is handing out magazines for Variety. The headpiece is not as heavy as it looks, she told me.
This ginormous stuffed kangaroo (complete with a Joey) is promoting the Hopper, a new all-home DVR. This is the biggest and best teddy ever.
Boombotix has two sumo wrestlers bumping into each other and showing off their clip-on portable wireless speakers. These guys were from San Francisco's Mission district.
Living in Digital Times has this showgirl walking around passing out gold foil chocolate coins and posing for pictures. Check out the headpiece.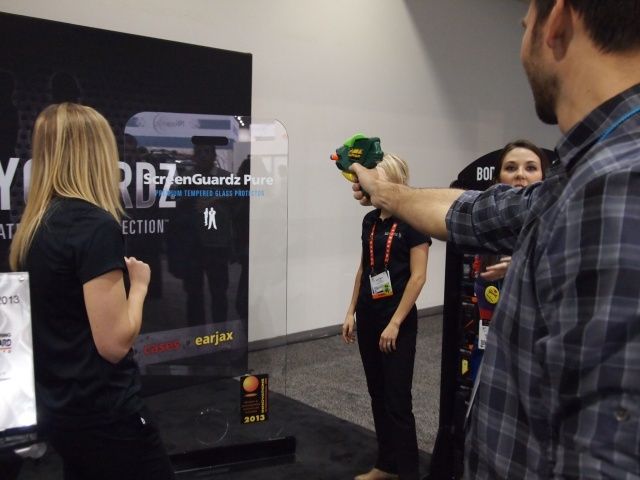 Body Guardz — one of the many screen protector companies — has a Nerf gun game. If you get the bullet to stick to the screen you get a free water bottle. It's a lot harder than it looks.
Newtrent is passing out tshirts promoting their portable chargers. They tried to give me one but I told them I don't do t-shirts.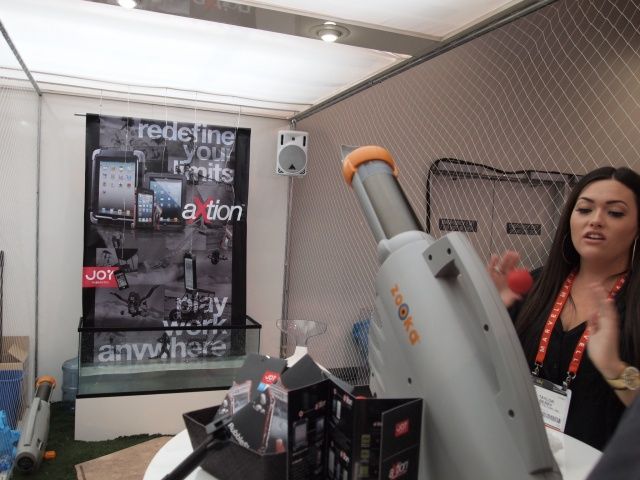 The Joy Factory has a zooka ball shooting game to demonstrate how waterproof and sturdy their cases are. If you hit the iPad it falls into water. Everyone who participates gets a free iPhone Bubbleshield.
This man just printed his crazy glasses on his portable 3D printer strapped to his body. The 3-DSystems Cube 3-D Printer is $1,299. While he was walking and talking it was printing a chess piece. Crazy stuff.
Marilyn is in the house taking pictures next to her commemorative stamp. She's representing the United States Postal Service, which is promoting direct mail. She looka so real that I expected her to break into a song.
Another USPS booth has a free throw basketball game. If you sink a shot, you win a University of Las Vegas basketball. With all of these promotions, expect an increase in the cost of stamps very soon.
Cyrus "Glitch" Spencer from So You Think You Can Dance fame is giving a riveting dance performance that has the crowd going wild. Afterwards the iPhone case maker Speck is handing out free beer. Just the beer does it for me.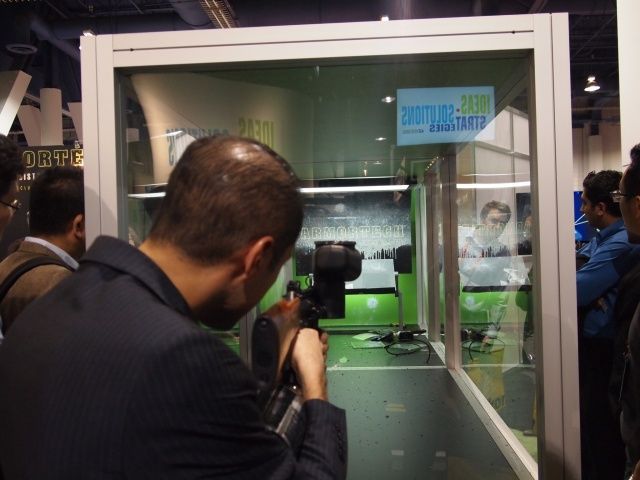 The Armourtech rep is shooting a paintball gun at his competitors' screens to show how crappy they are and how great his is. On the other side of the booth, another rep is doing the same demonstration but using a hammer instead.
The sassy Raiderettes cheerleaders are on the floor. Sadly, there's only three of the Oakland Raiders cheerleaders, not the whole crew. They are autographing a mini poster and promoting Mizco Sports.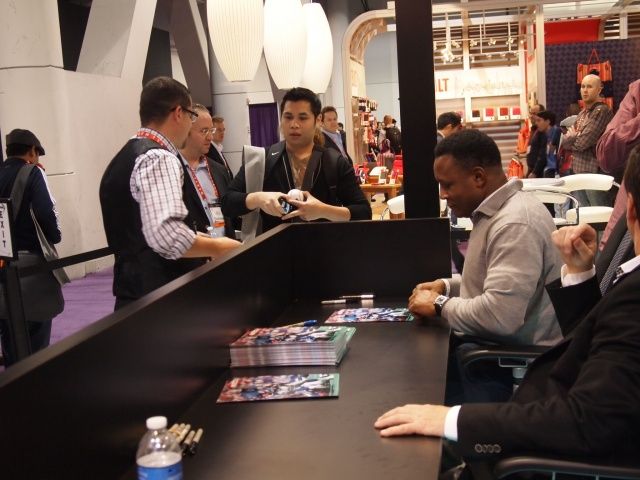 This is Barry Sanders from the Detroit Lions signing autographs for Mizco Sports. The line is wrapped around the booth. Do you think it's worth money on eBay?
Parrot has a cool flying show performed by their iPad-controlled Air Drones. It's like Top Gun — they are flying all in formation, synchronized to music. It seems like the flying display goes on forever but they occasionally stop for a battery change.