LAS VEGAS, CES 2013 – The truth of the matter is that there's just no way to have a telescopic lens phallically jutting out of the back of your iPad in a way that Jony Ive's sense of dignity in design would approve of. Props to Polaroid, then, for not even trying, instead going a more playful route with their brand new line-up of iPad, iPhone and iPad mini cases that support snap-on external lenses.
The cases themselves are simple affairs in bright, almost neon colors, a seemingly purposeful choice to emphasize the very thing which Polaroid was once best known for: the vibrance and playfulness of spontaneous photography.
The lenses themselves snap onto the case with a minimum of fuss, and come in three main flavors: a standard fisheye, a telephoto lens that will bring you two feet closer to whatever it is you're snapping and a telezoom good for three feet. The fisheye and telezoom are constucted of metal, while the telephoto is a white plastic affair.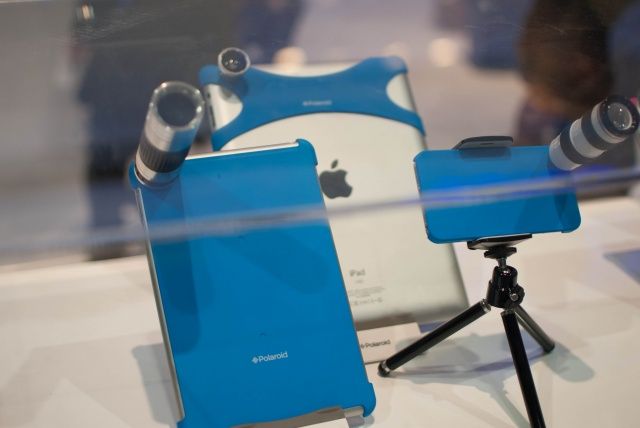 The cases themselves are so new that Polaroid hasn't even given them a name yet, although they insist that they'll be out in March. The price is best of all: all of the lenses with case included cost between $19.99 and $29.99.
To be fair, there is something a bit sad about Polaroid's recent fortunes, but also something of the pleasingly symmetrical in the fact that they are now making accessories for Apple devices. After all, Edwin Land's instant film corporation was in many non-trivial ways the Apple of its days, and although it has found itself somewhat displaced by technological history, there's something appropriate about using a Polaroid product to snap an instant memory in 2012, just as you might have fifty years ago.