Google Maps for iPhone rocketed to the top of the App Store in just 7 hours, and today Google confirmed that the app was downloaded over 10 million times in less than 48 hours. Those are crazy numbers. People clearly wanted the triumphant return of Google Maps to iOS, but how many downloads are a result of Google's own promoting?
It's not news that Google makes it impossible to send address info from its web search to Apple Maps—you have to manually copy and paste the address or use the Google Maps web app. But over the weekend we noticed that Google has started heavily promoting the new Google Maps app with fullscreen banners and floating buttons in its web search on the iPhone.
A fullscreen banner with a prominent link to visit the App Store is displayed when you first try to look at a location in Google's web results on the iPhone. In our testing, the banner only appears the first time you attempt to get directions with Google. The rest of the time a link to get the app stays floating at the top of the screen in the Google Maps web view. You can choose to either open the mapping info in the native Google Maps app or go download it from the App Store.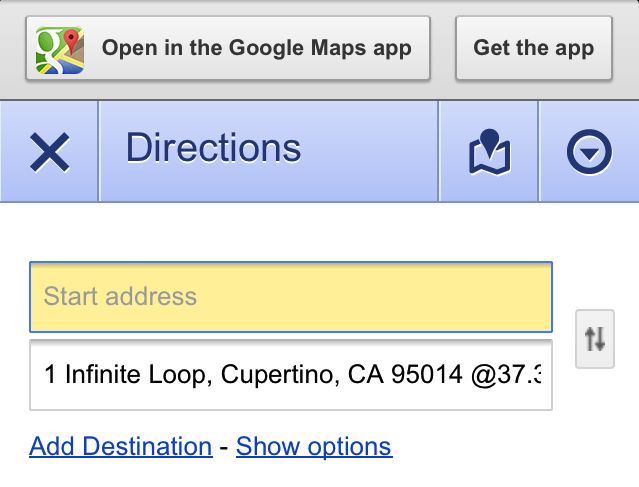 Apple has distanced itself from Google with its own Maps, but Google and Apple still had to work together to make the Google Maps app a reality in the App Store. Ultimately, having more options is a win for users, and both companies realize that. The backlash from Apple Maps has been so great that Apple would look like the bad guy if Google Maps never made its way back to iOS as a full app.
If someone used Google search in Safari on the iPhone to find an address (I know I do all the time), that person could get directions and arrive at their destination with the new Google Maps app and never even see a mention of Apple's own Maps. Google wields a lot of power with its prominence as the default search engine in Apple's Safari, and who knows how long before that changes.
Since the Google Maps app isn't optimized for the iPad yet, these ads for the app don't appear in web search on Apple's tablet. Yet.
Google Maps is available for free in the App Store, and it has an average rating of 4.5/5 stars. Not too shabby, Google.