If there's any company that gets content creation on the iOS platform, it's Algoriddim. The Germany-based development firm is behind djay, the most intuitive and polished software of its kind on iPhone and iPad.
Music mixing isn't Algoriddim's only forte. Back in June, vjay for iPad was announced. The app brought live video remixing to the tablet experience, and today vjay has arrived on the iPhone. To celebrate the release, Algoriddim is also discounting all its iOS apps for a limited time in the App Store.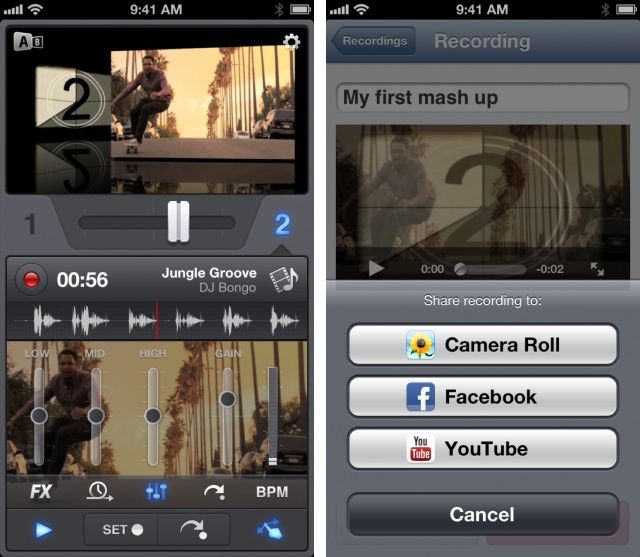 vjay is a great example of how developers can take advantage of the iPhone 5's taller display. The extra screen real estate allows for even more viewing room while mixing two videos together in the split-screen edit view.
"Our goal at Algoriddim is to create a world where every single person can be an artist and bring their favorite memories to life by creating and sharing music and video mash-ups on the fly," said Karim Morsy, CEO and co-founder of Algoriddim. "For the first time, we're giving everyday users the ability to capture and express themselves through video content using their smartphones. With built-in Facebook and YouTube support for vjay, users can instantly share their creations while on the go from anywhere."
Full integration with iTunes Store content for easier search, preview and in-app purchase – Browse, preview and purchase iTunes music video content directly within the app. Users can also efficiently search for iTunes video content with find-as-you-type search functionality, and fast forward and rewind previews to make sure the selection is right.
Support for four-inch retina display and powerful processor on iPhone 5 and iPod Touch – Experience a new level of functionality with new wider screens on the iPhone 5 and iPod Touch, along with a dynamic user interface in both portrait and landscape orientation. Users can also download music videos and mash-ups with added bandwidth at blazing-fast speeds.
Pre-bundled content – Algoriddim has partnered with several amazing artists and brands to provide the vjay app with a pre-bundled videos to get users started right away – including custom clips from Far East Movement; a music video from Parov Stelar; dance video from Lil'Buck and Yak Films; content from pioneering visual artists Eclectic Method; action and sports footage; and animated VJ loops.
Instant Facebook and YouTube sharing

 

– With one simple touch, instantly share your one-of-a-kind vjay media mash-ups via Facebook and YouTube.
Support for multi-route audio – This feature lets users display their main video mix to a television, computer monitor or any external monitor via HDMI while simultaneously previewing the sound through a built-in iPhone, iPod or iPad's headphone jack.
I'm not sure that video remixing is a super hot market in the mobile space right now, but if there's any app that will make it catch on, it's vjay. The app is rock solid and super fun to play with.
vjay for iPhone is available in the App Store for an introductory price of $1. The iPad version is also available for 50% off at $5.
In the djay department, the iPhone version is available for free for a limited time. The Apple-Design-Award-winning iPad app is 50% off for $10. The Mac version sells for $20 in the Mac App Store. Get 'em while they're hot!
Source: Algoriddim