Meet Dave. Here he is. Dave Pell. He writes one of the best internet newsletters there is, and now his newsletter is an app called NextDraft.
If you've not encountered him before (what internet have you been on?), there's something you need to know about Dave.
It's this: Dave's been doing this for years. He's prolific. He's been writing witty, topical, clever stuff at a variety of websites and mailing lists since before Facebook was a glint in Mark Zuckerberg's eye. His name has been a regular in my inbox for many, many years.
There's Davenetics. There's Tweetage Wasteland (including one of my favorite Pellisms ever, Say Hello to my Little Friend, which puts all of our internet obsessions into perspective.)
So be assured: Dave knows how to blog.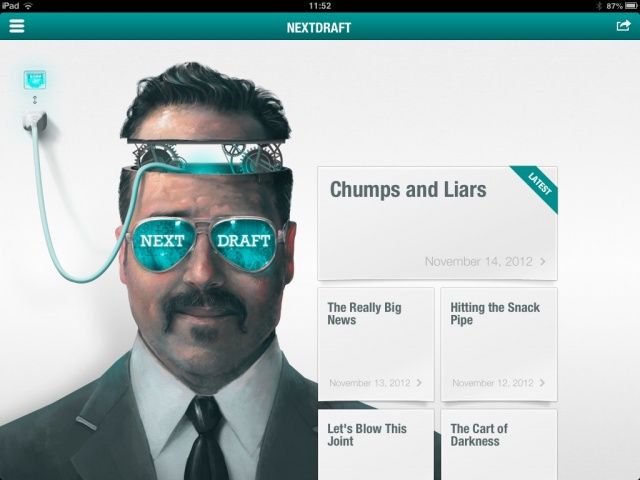 But wait. A blog is a blog, right. Why does it need an app to read? Why the hell can't you just read NextDraft on the web?
Well, because although it sounds like one, NextDraft isn't a blog. It's a newsletter, delivered by email. I know: retro. But it works just fine, and you don't have to remember to go and read it, because it comes to you. Busy? Fine, just hit delete. That's why email is such a beautiful thing.
So, you can't read NextDraft in your iOS browser because you can't read it in any browser. It's not published on the web, it's published by email. And now, in its own app.
But what is NextDraft? It's the news, in a manner of speaking. It's all the stuff you really need to know, summarized and wrapped with Dave's unique take on things. There are plenty of links, a handful of gags, but not too much of everything. NextDraft is designed to be read through fast.
The app is nicely made, beautiful to look at, and contains no adverts. Which, considering the quality of the product, is amazing. If I have any criticism, it's that the tap makes you tap your way from one article to the next – whereas if you're reading the email-delivered version, you just scroll from top to bottom, which personally I'd say is more convenient.
But I suspect the whole point of this app is that it's aimed at people who don't want more email. I like email, but I know I'm an outlier. There are many people who really really don't like email, and prefer to get their news in other ways. If that's you, this is app is for you too.
Source: App Store