The sexiest all-in-one computer has long been the iMac, and last year's 24-inch model was a beauty. But oh my Lord, the new 27-inch machine induces crazy lust. Look at the size of that screen!
I just returned from the Apple store with one. I went to buy the new Magic Mouse. They were out of stock, so I bought the new iMac instead — it comes with a Magic Mouse.
Crazy, I know. I just couldn't help myself. We've already got a 24-inch model, but the 27-inch is so much… bigger.
Yeah, like 3-inches of extra screen makes a difference. But it does. The screen is simply HUGE. There's no other word for it. If you're sitting right in front of it, hunched over the keyboard, you have to physically MOVE YOUR HEAD to look from one corner to the other. You get motion sickness if there's video playing, like being in the front seats of a movie theater.
Thanks to this big beautiful screen, the sexiest desktop in the world got a lot sexier. The question is though: is the screen too big?
Full review after the jump, including real-world benchmarks and tons of pics.
The Screen
Like Apple says, the iMac has always been a great idea. All-in-computers make a lot of sense, especially in the home, where space is at a premium and good looks count.
The new iMac is certainly good looking. Even the back is good looking. The black plastic of last year's models has been replaced by one big sheet of plain brushed aluminum. It's split only by a cooling vent at the top and a line of ports at bottom left. It's so big, Apple reportedly had to go to car manufacturers to get it made.
Although the 27-inch iMac is a computer, it's designed for watching high-definition video. This is a big-ass, internet-connected HDTV that can also send email.
It has the largest LED-backlit computer display on the market. Other all-in-ones, like HP's TouchSmart 600, and Sony's Vaio L, have 23-inch- and 24-inch size screens, respectively. Yeah they have Blu-Ray drives and touch screens, but they run Windows.
The 27-inch iMac screen has a 16×9 aspect ratio — the same as HD — and offers a resolution of 2,560-x-1,440 pixels. That's much larger than HD resolution, which is 1920-x-1080.
I download several HD movie trailers in 1080p and blew them up full size. They fit the screen perfectly, of course, and displayed considerably larger than the 24-inch iMac next to it, which has a 16:10 aspect ratio and putting black stripes at the top and bottom.
To watch video, you've actually got to sit back from this screen. Like I said, it's too big to sit close. The screen is almost too big. It's quite a trek with the little Mighty Mouse to move the cursor from one end of the screen to the other. It's often three, separate mouse-lifting swipes.
The energy-friendly backlit LED throws out a lot of light. Apple boasts the screen is viewable even from extreme angles. Craning your neck to the sides, you can clearly see the picture with no difference in color or image quality. Be warned though: the screen is glossy, which may be an issue for some.
There's no need for a dual monitor setup with this machine. There's plenty of room onscreen to have multiple documents open at once. It easily handles two full-size windows side by side with plenty of room for background windows or a wide strip of open desktop.
The graphics system is pretty good for a home machine. The ATI Radeon HD 4670 graphics processor (256MB of GDDR3 memory) won't satisfy hardcore gamers, but scores very well in World of Warcraft. The new machine boasts a frame rate of about 100-140fps (max 140fps), compared to about 50fps (max 54) on the older 24-inch iMac (2.66Ghz Intel Core 2 Duo with NVIDIA GeForce 9400).
SD Card Slot and Magic Mouse
The two major new features are a very handy SD card slot and the touch-sensitive Magic Mouse.
The SD slot is a welcome addition. I use it all the time on my MacBook for offloading pictures from camera memory cards. I haven't broken out a camera cable in months and have always hated card readers. The SD slot is very speedy on the iMac. Photos transfer in a jiffy.
After initial misgivings, the Magic Mouse is growing on me. It was a question of ditching my old multitouch habits and learning to how to use it for what it is — a mouse. I'm starting to find it much more natural to move it around like a mouse and then scroll down windows with a swipe of a digit.
The MM's two-button set-up works well. Not a hitch. It's still a bit small for my hand (which is average -sized; it's not a big a meaty paw) and is maybe a bit too light — it tends to skitter around.
Design
This shouldn't be a surprise to anyone, but the build quality is superb. This is one well-made hunk of metal and glass. There's nothing cheap and nasty about this machine. Like an import car, everything works with a satisfying clunk.
The built-in speakers are pretty good. They definitely make a rumble when watching a big, loud movie trailer. You can feel the vibration with your feet. Although Apple says sound has been improved, they maybe not quite as good as previous model. The older 24-inch iMac sounds bassier to my ears. I may be imagining things though.
On the back there's 4 USB 2.0 ports, FireWire 800, audio minijack, Mini DisplayPort, Gigabit Ethernet and power — the only cable that ships with the machine.
The Mini DisplayPort can be used to hook up another video source, but DisplayPort only (such as a newer MacBook). Some have noted that the 27-inch iMac offers 90 percent of the screen real estate of Apple's 30-inch Cinema Display — and is $100 cheaper. But whereas the Cinema Display has DVI connectors, the iMac won't output video from any other source: VGA, DVI or HDMA.
On the front there's the iSight camera. The microphone is located on the very top of the machine — it looks like a tiny circle of minuscule pixie holes — away from the speakers so's not to generate feedback.
The quality of video in iChat is much improved. It's an unbelievable difference compared to the 24-inch iMac. I thought the settings must have been wrong on the old machine, like it was set to VGA resolution or something, but that wasn't the case. The new iMac looks positively HD in comparison.
Built-in, there's Bluetooth 2.1 (which the wireless mouse and keyboard connect to) and 802.11n Wi-Fi. The WiFi antenna has been cleverly hidden in a plastic Apple logo top center on the back. There's some speculation that the all-metal enclosure might interfere with reception, but the signal is exactly the same as the plastic-backed iMac.
The only thing missing is a Blu-Ray player, but don't cross your fingers. Apple's unlikely to adopt Blu-Ray until it becomes standard for software and other media, not just movies. Never mind: there's plenty of HD options online.
Heat and Noise
The machine puts off a little bit of heat. Not as much as a plasma TV, but it feels warm to the touch. Definitely warmer than last-year's model.
It makes no sound though. The heat is dissipated by three very quiet fans. Apple says the machine runs at less than 20db at idle. I couldn't hear a thing, even with simultaneous HD movies running and a bunch of open applications.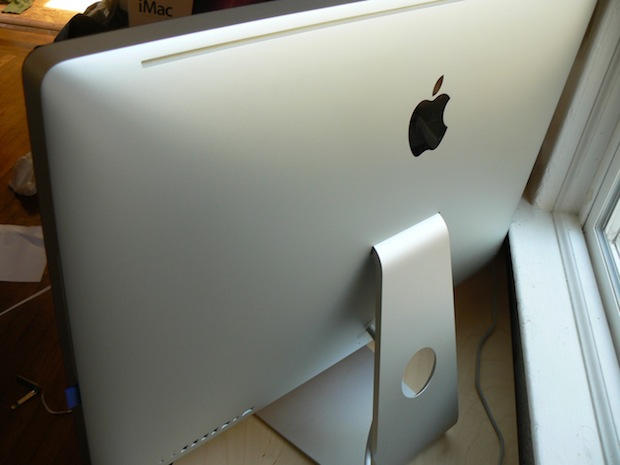 Speed
This machine is zippy. The base 27-inch iMac has a 3.06GHz Core 2 Duo chip with 4GB of RAM and ATI Radeon 4670 graphics, which is a mid-range GPU. This machine compares to the high-end, custom configs of last year's models for about the same price as the basic configs. So specs have gone up as the price remains about the same. Apple has added two extra RAM slots (for a total of 4), making it possible to max out the memory at 16GB, though for most of us, 4GB should be plenty.
In November, Apple will offer upgrades that boost the CPU to quad-core Intel Core i5 or Core i7 (both high-power desktop chips) and better graphics (ATI Radeon HD 4850), which Apple says will offer a 1.8x improvement over the basic model. Faster is always better, but for a home machine that's not doing 3D modeling and complex video transitions, the basic model should suffice.
Everything is faster, as you'd expect. It boots in about 30 seconds, which is pretty fast. However, it's a new OS install that hasn't yet been bogged down with a bunch of startup junk.
In real-world tests — encoding AAC audio, converting video formats and so on — the machine is considerably faster than a 2.66Ghz 24-inch iMac.
Real-world Benchmarks:
27-inch iMac (3.06GHz Intel Core 2 Duo with ATI Radeon HD 4670)
World of Warcraft frame rates — 140fps
Converting .AVI video to MP4 — 1,320 seconds
Converting 10.37 min song from MP3 to AAC — 13 seconds
Converting 48 min album from MP3 to AAC — 73 seconds
Compressing 730Mb file — 48.6 seconds
Startup time: 30.8 seconds
24-inch iMac (2.66Ghz Intel Core 2 Duo with NVIDIA GeForce 9400)
World of Warcraft frame rates — 50fps
Converting .AVI video to MP4 — 1,479 seconds
Converting 10.37 min song from MP3 to AAC — 19.7 seconds
Converting 48 min album from MP3 to AAC — 89 seconds
Compressing 730Mb file — 58 seconds
Startup time: 46.7 secs
Downsides
There's no Blu-Ray and the iMac outputs video only from DisplayPort sources, so its utility as an external display is limited. The Magic Mouse takes a bit of getting used to, and may be too small and skittish for some.
It's also not the cheapest all-in-one on the market. Competing machines from HP, Sony, Dell and Gateway are hundreds of dollars cheaper and offer extras like touchscreens and Blu-Ray players. But they run Windows, which is a major liability (I'm going through the nightmare of updating an XP machine to Windows 7, and it's already ruined my whole weekend).
Summary
* The 27-inch iMac is the sexiest desktop on the planet, no doubt about it.
* The screen is drop-dead gorgeous. The 1080p HDTV in the living room looks fuzzy in comparison.
* It's not cheap, but it's a top-flight machine. You get what you pay for.
* It is fast, capable, and a ton of fun to drive.
More 27-inch iMac porn: