Born on Kickstarter, the MobileMount is a nifty little tool that allows you to mount almost any smartphone or tablet to a flat surface. Its design is simple; it consists of two suction cups that are held together by a ball and socket joint, so you can angle the stand in almost any direction while it's mounted.
Both suction cups utilize a 'turn-to-lock' mechanism in an effort to ensure it's super secure, and that your device never becomes unstuck. And because they're just simple suction cups, you don't need to remove cases or chargers from your device before you use them with the MobileMount — provided the case you're using has a flat surface, of course.
This also means you can use one mount for your iPhone, your iPad, your iPod, and more — you don't need to carry separate, dedicated accessories for each device. The MobileMount comes in black or white, and costs $39.99. But is it really worth it?

The Good
The thing I like most about the MobileMount is its versatility; it works with an enormous array of devices, on almost any flat surface. You can use it to mount your iPhone to your car's windshield, your iPad to your fridge, your iPod touch to your nightstand, and lots more.
Provided you find the right surface, the MobileMount is super secure. It's 'turn-to-lock' suction cups are designed to create a vacuum between the mount and the device, so once it's in place, it's hard to budge.
The MobileMount comes with four vinyl stickers that allow devices with a matte finish — like the iPad or the iPhone 5 — to stick better. They can also be used to improve suction on surfaces like desks or kitchen cupboards.
I've had my iPhone mounted to my car's windshield for four-hour journeys and it stuck like glue, while my iPad was safely secured to my office window for a whole afternoon before I removed it.
The thing that worried me most about the MobileMount was that it wasn't strong enough to hold heavier devices — like the fourth-generation iPad. But I was pleasantly surprised by its strength during the first few weeks of use.
Once the MobileMount's stuck down, its ball joint allows you to twist and turn your device into all kinds of orientations and angles without having to remove and reposition the mount. Furthermore, it's strong enough to ensure that it doesn't turn or fold unintentionally under the weight of your iPad — at least at first.
The Bad
After plenty of use, however, that ball joint becomes very loose, and heavy devices no longer stand up like they should do. This was less of a problem with the iPhone 5, but it's a massive problem with the iPad, and even my old iPhone 4S caused the stand to fall when going over speed bumps or potholes.
Part of this problem could be the fact that my ball joint cracked after some weeks of use, causing the top of the MobileMount — which had my iPad attached to it — to pop out of the stand and fall flat on its back. It could be that this was a rare issue with my unit [Update: MobileMate says that this is indeed a rare issue, caused by a bad batch of mounts. A new unit from the new batch is on its way for further testing], but I've treated it with care and I haven't been at all forceful with it, so I was surprised to see it split so easily.
I wasn't too pleased with the vinyl stickers, either. I didn't mind having to use them — I thought that was a small sacrifice for a stand this versatile — but they let me down.
After a few days, the sticker I put on my desk began to attract air bubbles, presumably due to the stand's suction, and it was no longer strong enough to hold my iPad (and yes, I applied it carefully to ensure there were no air bubbles from the start.)
What's more, the stickers aren't easy to remove when you're done with them, and they leave a sticky residue that's hard to get rid of. It's certainly not what you want all over the back of your shiny new iPhone 5.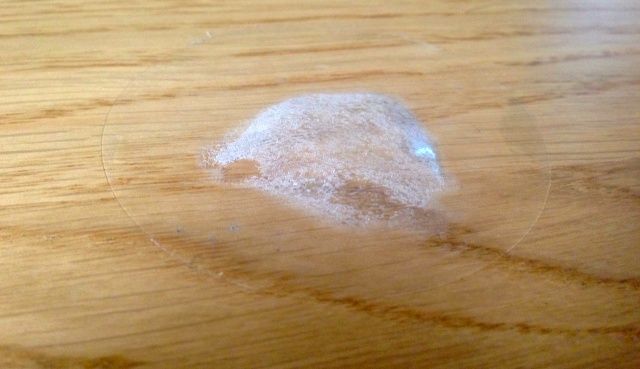 The Verdict
Wait and see! Thanks to the manufacturing issue which came to light after this review was published, we're holding off the verdict pending further testing, although we fully expect the cracked hinge issue to have been addressed.