The SmartFlex View is a new iPhone 5 case from Speck that has one handy feature: it's got a built-in retractable stand, so you can turn your iPhone into a free-standing display — in portrait or landscape mode — at any time in any place, without the need for additional accessories.



The outer edge and most of the back of the SmartFlex is made of rubber, and is designed to absorb impact when you happen to drop it. There's also a section of plastic on the back that houses the built-in stand.

The SmartFlex provides access to all of your iPhone's buttons, switches, and ports, while its rubber edge keeps your volume keys, sleep/wake button, and speakers protected. It's priced at $35, and comes in black and purple.
The Good
The SmartFlex's best feature is its most unique feature: the built-in stand. It slides out from within the case itself, then clips into place to provide a secure stand in both portrait and landscape mode.
It's perfect for watching movies on a train or plane, holding FaceTime calls from your desk, and anything else you need to stand your iPhone up for — providing you have a flat surface, of course.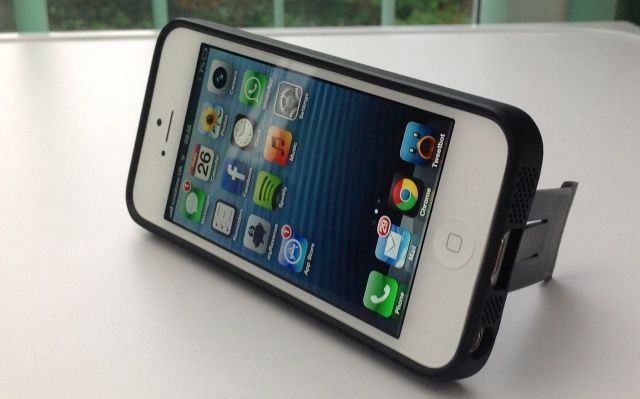 The stand's spring loaded, too, so it snaps back into the case when you don't need it. This also prevents it from slipping out and breaking off in your pocket or your bag unintentionally.
Like all Speck cases, the SmartFlex fits the iPhone well, and it's designed to provide protection to every angle. The back and sides of your iPhone are well covered, while the rubber bezel that sits around the edge of your display ensures your screen shouldn't get scratched or cracked when dropped on a flat surface.
The SmartFlex covers your volume keys and your sleep/wake button, but the rubber's nice and soft so that the buttons aren't too difficult to press through the case. It also covers up your speaker and microphone on the bottom of the iPhone, leaving tiny little holes that allow sound — but not too much dirt — to travel through.
The SmartFlex keeps your iPhone's camera well protected, but it leaves enough room to prevent your flash from rebounding and spoiling your images. Its supple rubber also means it's easy to apply and to remove.
The Bad
Because of that built-in stand, the SmartFlex is a little bulkier that regular rubber iPhone cases. Thanks to the iPhone 5's super slim form factor, it's not too thick, but for the same reason, it's more noticeable.
The same goes for weight: While you wouldn't exactly class the SmartFlex as a heavy case, it's noticeable when applied to a featherlight iPhone.
My final gripe about the SmartFlex is with its stand. While this may be its best feature, I was a little worried that the stand wasn't quite strong enough to support the iPhone in portrait mode. It does, but it feels a little flimsy, and I was concerned that if the iPhone was knocked back too far, the stand would break off.
Maybe that's just me being overly cautious; I've used the stand a lot over the past couple weeks while testing this case, and it has held up incredibly well.
The Verdict
I liked the SmartFlex View a lot during my testing. It's good looking case — despite its size — and it fits the iPhone well. It's handy having a stand with you wherever you go, without having to carry extra accessories, and the case itself is nice and sturdy.
The size and weight of the SmartFlex is something you'll want to bear in mind, however, simply because it does make your sleek and sexy iPhone a little big and bulky. You'll also want to watch that stand in portrait mode.
[xrr rating = 70%]