Say what you want about Rovio, that Finnish firm sure knows how to milk a good cow. It's been nearly three years since Angry Birds made its debut on iOS, and since then we've seen a handful of sequels reaching numerous platforms — plus the spin-off, Bad Piggies — Angry Birds plushes and toys, costumes, books, amusement park attractions, snacks, and even an Angry Birds cartoon (coming soon).
Now Rovio is tackling… cookbooks! Announced at the Frankfurt Book Fair today, Bad Piggies' Best Egg Recipes is a new interactive cookbook packed full of egg recipes that's available now on the iPad.
There's already a print version of the book, which was published last year. But Peter Vesterbacka, Angry Birds CMO, insists this is "not just a book."
"We took the content from the book, 41 egg recipes, but didn't want to just take the book, make a PDF and sell it to people," Vesterbacka said. "We actually made it a lot more interactive."
On sale in the App Store with an introductory price of just $0.99, the book includes step-by-step instructions, including photos, to egg-based recipes; an egg timer; and images of the finished dishes. Users can also take pictures of their own dishes and upload them for others to see.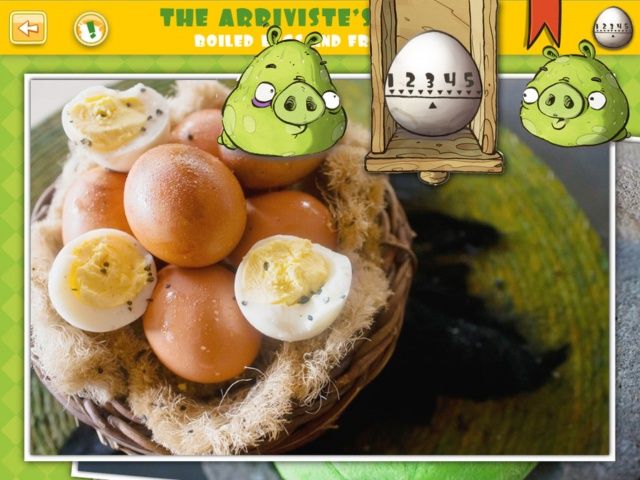 "Look at the implications of Rovio getting into the book business," Vesterbacka added. "With Angry Birds the game, we have built the biggest distribution format on the planet, with more than 1 billion downloads, so for us it's very very easy and very fast to cross-promote the book in all our games."
"We're not looking thousands or tens of thousands of downloads," he continued, "we're looking for millions of downloads of this book… We're going for massive, massive volume."
There's a surprise.
Vesterbacka didn't announce a final price for Bad Piggies' Best Egg Recipes, but he did say that there "no reason why you should price book applications any differently. There's no reason why something should cost more just because it happened to be a book before it turned up on one of these digital platforms."
Source: paidContent