The Cygnett Lavish from MobileFun is a genuine leather flip case for iPhone 5 that contains a plastic snap-on shell that houses your device. It boasts a magnetic closure, and a card slot that will comfortable house one or two credit cards without adding too much bulk to your pocket.
The Lavish provides access to all of your ports and buttons, and can be folded back to expose your iPhone's rear-facing camera. It comes in black or "regatta blue," and it's priced at $41 (£30).
It's not the cheapest iPhone 5 case, then, but is it worth it?

The Good
The Lavish certainly boasts a premium feel; the leather exterior looks elegant and well-made, and it's padded to provide extra protection from dings and drops. Even the plastic snap-on case that houses your iPhone sports a smooth, velvety finish.
On the inside of the case, there's a soft suede-like lining that will keep your iPhone's display free from scratches. It even boasts a small pocket that'll house one or two credit cards, or a handful of bills.
Even with cards or bills stuffed inside, the Lavish still feels thin and light, and doesn't add too much bulk to your iPhone like a lot of leather flip cases do. It will certainly feel comfortable in your pocket, and you won't have to wrestle with it to get it out.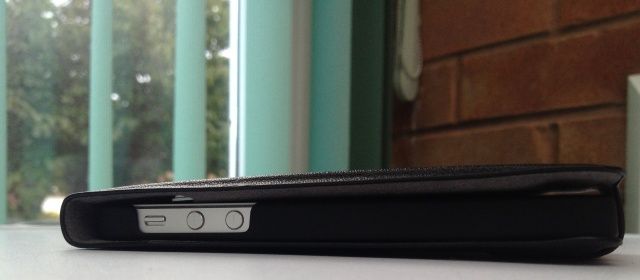 I'm also a big fan of the magnetic closure. It doesn't stick out too much, and it's strong enough to ensure that the case stays closed when it's supposed to. It's certainly not going to open up and exposure your iPhone if you drop it.
With the Lavish closed, you can still access its headphone jack, its mute switch, and its volume buttons. It also leaves your speakers exposed so you'll still hear your notifications, while the magnetic closure provides just enough cover for your Lightning port so that it doesn't become jammed with pocket fluff.
The Bad
While the Lavish feels great, it's actually wider than your iPhone, which means it folds over slightly at the sides and doesn't quite look right. I wasn't a big fan of this. I'm assuming it had to be wider to provide the credit card slot, but to be honest, I think I would prefer to lose that and have the Lavish the same width as my iPhone.
Not only does it look odd, but it feels odd, too. When you're holding your iPhone, there are two small pieces of leather that stick out of the sides of the case and into your palms. It's not terribly uncomfortable, but I don't see why they need to be there.
The other thing I found frustrating about the Lavish is that you need to hold the front cover out of the way when you're using your iPhone's camera. This isn't too much of an issue in portrait mode, but it does get in the way a bit when you're taking a snap in landscape mode.
The Verdict
There are a lot of things the Lavish does excellently: it's well made with premium materials (which warrant its $41 price tag, I think), and it does exactly what it's designed to do.
However, I just didn't like that the case is wider than the iPhone, and that I always had leather bits sticking in me while I was using it. Like I said, I'd happily sacrifice the card space for a case as narrow as the iPhone itself — it'd look and feel a whole lot nicer.
[xrr rating = 60%]