Wood is, indeed, awesome. Speaker makers have been using wood for years to wrap high-end speakers in, utilizing the highly resonant natural properties of wood for sound reproduction. Now, with the all the rage for tiny bluetooth speakers like the Jambox and the Logitech Mini Boombox, perhaps it's time for something just a bit more, well, woody.
The 1Q speaker is tiny, but it has a 30 foot range, over 10 hours of battery life per charge, and packs a big 6.5 watts of power into its 3-inch, 8 ounce cube body. It's perfect for iPhone or iPad on the go, taking up less space in a travel bag than conventional small speakers. It comes with an included USB power adapter as well.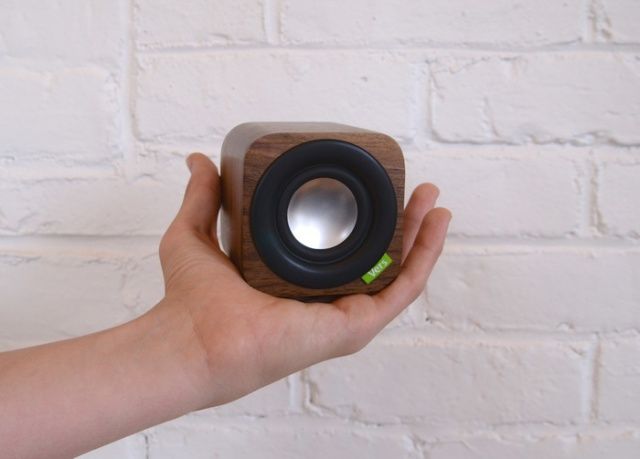 Even better, if you get two 1Q speakers and plug them together, you'll have a teeny tiny stereo system, due to built in auto-switching circuitry.
This Kickstarter project runs through August 16th, with a bunch of good donation levels still available. There have already been 1,149 backers, pledging a total of $160,270, with an original goal of only $10,000. With a $95 pledge, you'll be able to select one of the natural wood 1Q speakers as a reward, while $125 nets you the red beech wood 1Q, shown above (that's my favorite). A pledge of $180 will allow you to get two 1Q speakers at a $30 off per speaker discount over the planned retail price.
According to the project team,
"There are more than enough plastic sound accessories in the world today, most with a disappointingly short life. We chose wood for 1Q because it looks great, sounds awesome and is intrinsically renewable; we wanted to create a better sounding, lower impact, more valuable solution for your world of mobile audio devices. 1Q was designed to be an active part of your life for very long time."
For every 1Q purchased and delivered via Kickstarter, the company will plant a tree via the Arbor Day foundation, each of which will replace the equivalent of 1,000 1Q wood speakers.
Source: KickStarter