Redditor GrandHarbler is a musician and music teacher. He took to the popular social news sharing site today to start a conversation about how the iPad has improved his own practice, teaching, and music learning workflow.
As a musician, GrandHarbler has to practice every day. A lot. He works on goals that he times with an app called TaskMatrix, setting up 25 minute on and 5 minute off practice intervals called Pomodoros. He times them with a simple timer app, called 30/30.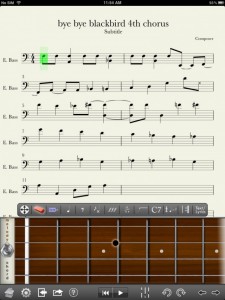 To transcribe music for himself and his students, he uses an app called Amazing Slow Downer, the latest iOS flavor of a music app from Mac that goes way back. This one slows things down without changing the pitch, so musicians can study a piece or section of music intensely and at their own pace. He uses the built-in Music app to keep track of his sound files. He transcribes music in a program called NOTION while he listens, and practices with backing tracks of virtual musicians in an app called iReal b.
He says that the best part of using the iPad for this kind of workflow is how integrated everything is.
"Apps such as Karajan and ReadRhythm are great for improving Aural and rhythm reading abilities respectively," he writes on Reddit. "GarageBand is probably the most effective composition tool personally and can be great for singing practice as it can lay out a melody or chord progression that I choose and I'll sing over the top."
For teaching music, he uses Notability to help students stay on track when not at a lesson. He builds lesson plans into the app itself, and then emails each student a PDF that contains all they've covered in class. He uses the built-in iPad camera to illustrate hand positions, looks up quick music notation online, and sets up charts in Skitch, or annotations on PDF files in GoodReader. He manages all his finances from playing and teaching music using his iPad, and even wrote the post on Reddit with it.
It's a fine example of how amazing an iPad can be, with the stunning array of specialized as well as general app software out there to help everyone create and live a more productive, creative life. As he says near the end of the write-up, "Trying not to sound too apple fanboy but it really has improved my career no end having this device."
Indeed.
Be sure to check out his post for even more detail, including videos he's taken of himself and students during rehearsals, to help fine tune the performance.
Source: Reddit