The latest corporate apple to be taken to court by Apple is Woolworths, an Australian supermarket chain.
They 80-year-old company restyled their "W" to look like an apple, meant to symbolize fresh produce.
Apple's lawyers are seeing red, just as they did with the Canadian school, and hope to convince IP Australia, the federal agency that governs trademarks down under, to repeal Woolworths' application, made last August, to trademark its new logo, according to The Age.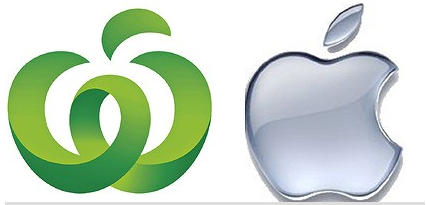 The man who designed it, Hans Hulsbosch, said Apple was taking trademark protection "to the extreme". "Based on this logic, they would have to take action against every fruit-seller."
Apple has so far declined to comment.
The speculation? That the Aussie retailer has requested a blanket trademark, leaving open the possibility that it could slap that apple on "fresh" computer products and home electronics. It already sells own-brand credit cards and mobile phone plans.
The retailer is expected to fight, since the rebranding took it from being  "seen as a dowdy brand for the uninspired older woman, it was a sensible and unexciting choice… Since it has reinvented itself…it has positioned itself as a brand that understands what people want," according to brandchannel.
Via The Age