I have a thing for iPhone wallet cases. The ability to carry my iPhone and my credit cards in one unit and leave my wallet at home really pleases me, and I'm disappointed when I have to use a case without this functionality.
When I stumbled across the Zenok leather wallet case on Etsy, I couldn't wait to get my hands on it. This unique iPhone 4 and iPhone 4S case is made using a silicone shell that is stitched inside a handmade, leather wallet, which boasts three card slots, and a pocket for your cash.
Each Zenok case is dyed by hand and purposely built to be different and unique, which is why I'm yet to see another iPhone case like it. As you'd expect, it also provides access to all of your iPhone's buttons and ports, as well as its camera.
It might be pretty and unique, then, but is it worth its $60 price tag?
The Good:
The Zenok case really is rather beautiful, and the fact that there's no other iPhone case like it — at least not that I know of — makes it even more attractive. You know it's handmade and that it hasn't just dropped off the factory line, and that gives it character and personality.
Furthermore, you can choose to have your Zenok monogrammed for free. This allows you to have any word (ideally your name) up to 7 letters embossed on the inside.
But just because the Zenok is handmade, doesn't mean it's not robust. It employs a thick, sturdy leather combined with high quality "Serafil" stitching to ensure it's built to last. The card slots are certainly no going to tear under normal use, and there's no chance the silicone case holding your iPhone is going to become detached.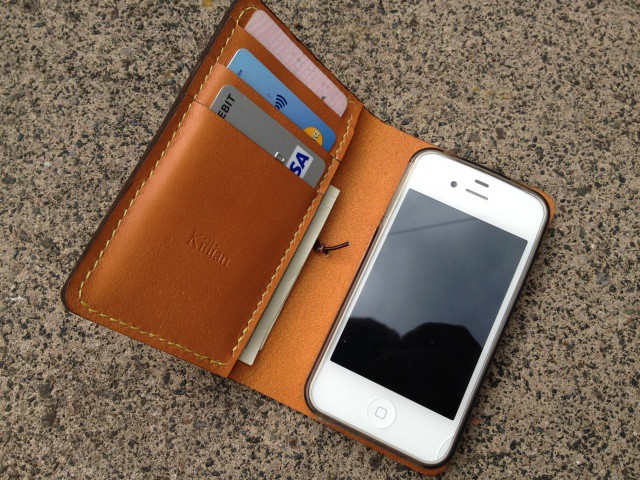 Because your iPhone is held inside a silicone case, rather than a leather surround, your device isn't obscured by its enclosure. That means it doesn't add too much bulk, and that your volume buttons and mute switch, sleep/wake and home buttons, headphone jack and dock connector are all easy to access.
What's more, unlike some leather wallet cases (such as the BookBook from Twelve South) the Zenok provides access to both your front- and rear-facing camera. Put simply, once your iPhone is inside the Zenok, the only thing you'll need to take it out for is to access its micro-SIM card. And how often do you need to do that?
Finally, the Zenok features an elasticated closure that keeps it securely shut when you're not using it. Not only does that keep it looking neat and tidy, but it also ensures that if you drop your device, the case isn't going to flap open and leave your iPhone's display exposed.
The Bad:
The main issue with the Zenok is that because it uses such a thick, quality leather, it is rather bulky, and it only gets bigger when you stuff your credit cards and cash inside. If you're throwing the Zenok inside a purse or bag, this isn't going to be an issue at all. But you will notice it in your pocket.
However, I got used to its size pretty quickly, and I think you will, too. And remember, it's still smaller than carrying an iPhone and a wallet separately.
The only other problem I had with the Zenok is that the silicone case that houses your iPhone is applied with just three sets of stitches — two in the middle of the case, and one around the camera whole.
It's still incredibly strong, and there's no need to worry about it coming loose. But it does have a tendency to let small objects — such as pocket lint and fluff, sand, and anything else you come across — in between the silicone and the leather.
This isn't going to damage your iPhone, of course, but it's a pain when you need to dig it all out.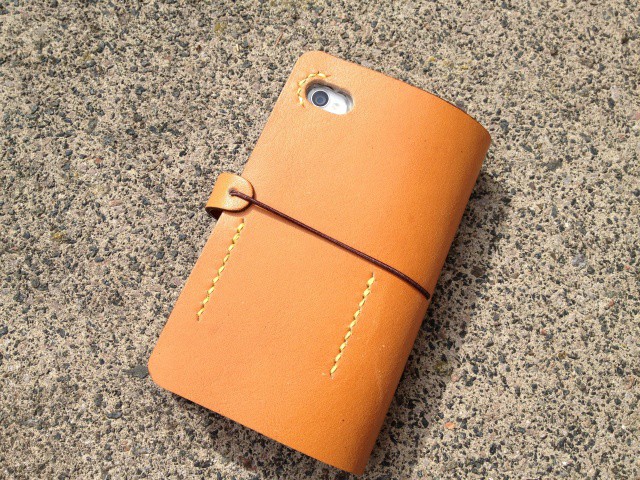 The Verdict:
After weeks of testing, I really like the Zenok case. Sure, it's a little bulkier than most leather wallet cases, but it's also more beautiful, and it has more character. I found its pros far outweighed its cons, and the fact that it's from an independent seller I found on Etsy makes the price tag well worth it.
[xrr rating = 80%]