Tired of connecting and disconnecting a ton of cords and peripherals to and from your MacBook Pro? Product developer Veritas Forge certainly was, but unlike me (or you, most likely), these guys actually went ahead and invented something to solve their issues.
Personally, I use a MacBook Air, but the process is the same. I get to work, unpack the laptop, set it up on it's little stand, and then plug in the power cord (after I've plugged that into the power strip under my desk). Then, I plug in the USB hub, which has my mouse attached to it. Then comes the display port, which connects via dongle to the large monitor I use at work. Then I plug in my iPad sync cable to get things charging. It's a pain, especially when I want to unplug it all to work with a client in a different room. At the end of each day, it's the same story. Too many cords.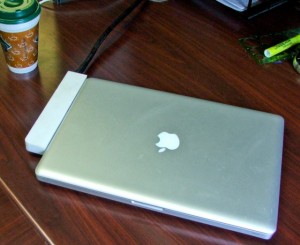 Hence the oddly named W1PPS connector. Of course, they're using Kickstarter to find funding, looking for $115,000 to produce this neat looking piece of kit that coordinates all those unruly cords into one mini-hub that plugs directly into the side of a Macbook Pro. They're concentrating on the 15 inch model with the mini display port to start, but may move on to Thunderbolt displays if things go well for this first production run.
You can find out more about the W1PPS on the project Kickstarter page. $100 backers get the W1PPS hub for a 15-inch Macbook Pro, but even $10 backers get something: a video of OJ, the dude in the promotional video, singing a song just for you.
Via Reddit