Our iPhones, iPad and Macs all come equipped to pump out music and movies, and yet the built-in speakers are merely adequate. Depending on whether you travel or stay at home, whether you use a Mac or an iPod to listen to your music, or whether you live in the countryside or cooped up with easy-to-rile neighbors, there is a speaker just for you. And here's our list of the best.
Best Travel Speaker
Loud, big-bass, amazing surround-sound for movies and small enough to fit into a shoe: The JamBox is a speaker that is as at home on a campsite or in a hotel room as it is in your living room.
Best Patio-Rocking Speaker
The SuperTooth Disco is loud enough to pump out tunes to a small group of people enjoying a BBQ, and small enough that you can prop it up on a spare wall. A switchable subwoofer and Bluetooth audio controls mean that your iPhone can stay safely out of the sun, and if you drop it, it'll bounce rather than break.
Best Boombox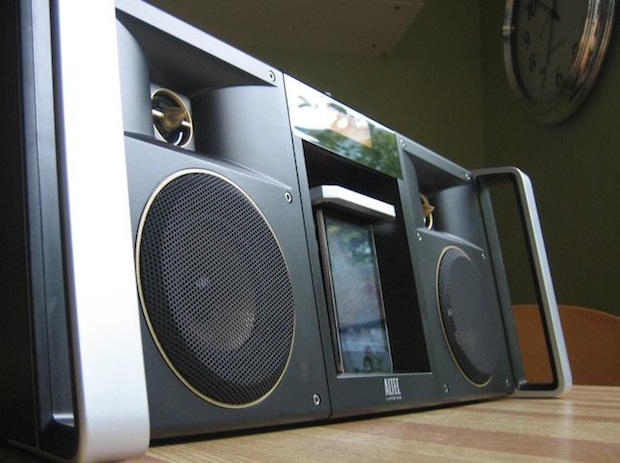 Altec Lansing's Mix Boombox for the iPhone — $300
It's hard to beat our dear leader's review, from back in 2009 when the Mix first shipped. Leander called it "loud and obnoxious, like a boombox should be. It mixes old school block-rockin' beats with new school digital connectivity. It easily fills a room with sound and can piss off the neighbors, even in the daytime."
Quite.
The Best Home Speaker
Sony's brushed steel dock sounds as sturdy as it feels, putting out a hefty 60 watts and enough bass to shake the iDevice perched on its front. Speaking of which, the 30-pin dock connector drawer can slide in and out and fit anything from an iPod Nano to an iPad 3. If you want to use another device, you'll need a cable — the X500iP has no Bluetooth or AirPlay.
The Best Speaker Dock
$450 will buy you 11 pounds and 90 watts of room-shaking sound. Your iPhone perches on top, and you can also stream music from anywhere else with Arcam's range of Kleer wireless networking accessories. There's even a carrying handle if you want to get a workout while you rock out.
The Best Computer Speaker
BassJump 2 By Twelve South — $70
The BassJump 2 is a subwoofer which uses your MacBook's own speakers as tweeters. It uses an app (pref-pane) to route the audio to the right places, and connects (and is powered) via USB. We love the sound, and also the fact that it is minimal in both design and intent.
The Best Alarm Clock Speaker
Alarm Clock Docking Station — $100
A staple of high-end hotel rooms the world over, the iD91 syncs its clock with your iPhone's own clock, and can wake you with your own tunes or a built-in FM radio. Switching power input means that you can use it anywhere in the world, and a fade-in on the volume means no rude awakenings.
The Best Speaker For Rough and Tumble
Braven 625 Bluetooth Speaker — $180
It's almost quicker to list what the Braven 625 won't do that what it will do. The rugged Bluetooth speaker can charge your iPhone, comes with a USB flashlight and water-resistant bag, can daisy-chain with other Braven speakers to increase sound output and — finally — pump out tunes for up to 16 hours.
Best Speaker for Parties
If your house parties are more like raves, then you will appreciate the power of this gorgeous piano-black speaker from TDK. While it claims to be portable (it comes with a shoulder strap), the suitcaseful of D-cell batteries you'll need to power it will keep this speaker at home.
35 watts will fill the room, and you can hook up an iDevice direct via 30-pin dock connector or go old-school with a 3.5mm jack.