The uber-popular social drawing app Draw Something, appears to be drawing less attention ever since Zynga bought out the game's creators OMGPOP for $200 million. According to Atlantic Wire magazine, the month after Zynga's purchase, the app saw a 5 million user drop in daily usage. That's a pretty significant drop, whether directly related remains unknown, but it's either that, or people have simply lost interest in the game.
This data comes via ​App Data, whose ​numbers are based upon the Facebook login method of playing the game. While this isn't the only way to play the game, it is one of the most popular ways and it's still alarming to see such a drop in just 30 days. Draw Something saw its peak of average users the day Zynga took over — 15 million users — and it's been downhill ever since.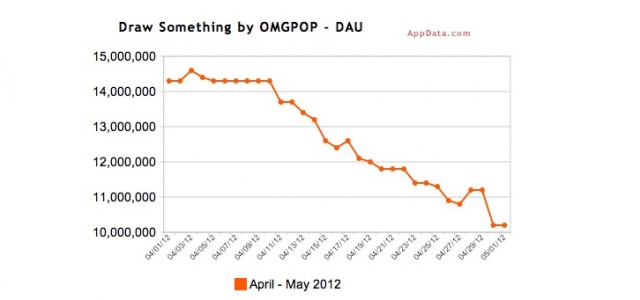 Coincidentally, Zynga's stock has dropped by 50% in about the same amount of time. So what has people so upset? Is it Zynga, or Zynga's purchase of OMGPOP? At this point, I don't think it really matters, as OMGPOP (who was on the verge of bankruptcy) is drawing dollar signs all the way to the bank, while Zynga is left to deal with the virtual shavings.
Have you given Draw Something a shot? Did you like it? Are you still playing it? Has Zynga's purchase of OMGPOP affected your feelings towards the game? Give a shout and let us know what you think is the reason this once "next Angry Birds" is now on the verge of being erased from our minds.
Source: The Atlantic Wire