Apple's new fifth-generation iPod nano, now with a video camera, is a perfect pearl of 21st-century technology. It's a lovely piece of electronic jewelry that does almost everything except dispense pints of beer.
It can record video, play movies, store weeks' worth of music, wake you in the morning, remind you of a dental appointment, record how many steps you walked to work, and how long it took you. It remembers all your contacts, records voice memos, stores your shopping lists and plays a bunch of games that are controlled by tipping and tilting the beautiful little device.
It's easy to get complacent about Apple's iPods, new ones come out so often. They've got to be 3D holographic auto-mastubators to get anyone's attention. But take a step back, and it's pretty astonishing how much advanced technology is stuffed into such a tiny device, and how beautifully it's done.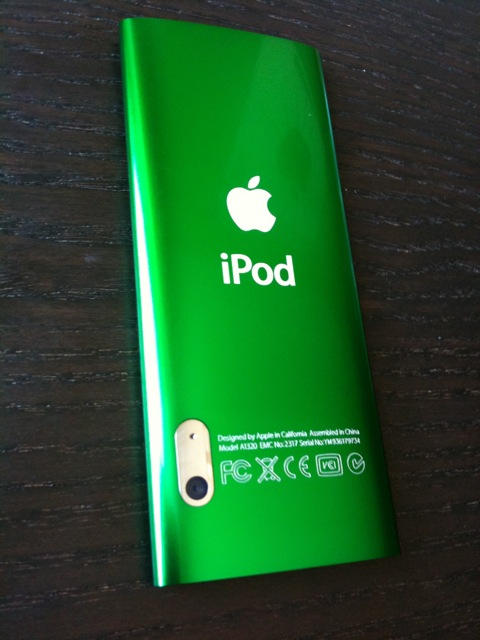 The first thing you notice about the new nano is it's packaging. Enclosed in a clear plastic coffin, it looks like a popstar's glittery corpse laying in state.
Open up the acrylic box, and there's only a few items inside: the iPod, earbuds, charging cord, accessory adapter and an instruction booklet. It's refreshing, actually, how little crap is in there. Apple's packaging can be irritatingly fussy. This ain't.
The new iPod nano is a slick piece of hardware. The colored aluminum shell is bright and shiny. It's extremely well made. There are no gaps or seams or flimsy tabs that might fall off. It feels solid and expensive, but also very small and light.
In fact, it's almost too small and light. It's built for womens' or kids' hands, not big meaty paws like mine.
The first thing I tested was the video of course. Video recording is the blockbuster new feature. It's dead simple to start recording, and the video is bright, sharp and detailed, even if it is only VGA (640 x 480).
The camera transitions well between sunlight and indoors, and the microphone picks up sound well — almost too well. It recorded all the rustling from my fingers and quiet swearing under my breath.
This was weird: It was impossible to figure out how to use the built-in special effects. I even had the concierge at the Apple Store stumped. The secret is to enable the video camera and then press and HOLD the center button. Up pops 15 special effects, including Cyborg, X-Ray, Thermal, Security Camera and Film Grain.
The effects are a ton of fun. In the past I've found effects gimmicky, but here they make perfect sense. This is a casual video device, made for goofing around. Here's a sample video shot with the Film Grain special effect. More special effect samples on page 2.
Here's the bad news: the nano can't take still pictures. Steve Jobs says that's because camera sensors are too big and complex to fit in such a tiny device. Maybe. It's a shame it's not there, but not a deal breaker. Video is plenty fun.
Video playback is fantastic. The nano's screen is really sharp and detailed. So much so, it's almost hallucinatory. I watched a couple of videos, and they looked trippy sharp. Maybe it's the small screen.
Watching a movie or TV show on this device is no problem. Holding an iPhone to watch a movie can be tiring on your arms, but the nano is so small and light, I didn't have a problem.
The new built-in FM radio is slick, and a welcome addition. How many times have you been listening to something over breakfast before work and wanted to hear the whole show? Now you can.
You've got to plug in the earphones to get a signal — they act as the antenna. It's straightforward to navigate between stations and record presets. Live Pause allows you to stop the audio for up to 15 minutes and pick up later where you left off. And Song Tagging lets you tag groovy songs, which are added to a list in iTunes when you sync. It worked fine, but I tested just a couple of songs. If it's comparable to Shazam, it'll work great.
And then there's music playing. Remember when the iPod just played music? Yeah, neither do I.
Music on the nano works great. I really enjoy Cover Flow, which I hate on the computer. Tilt the nano sideways, and it displays thumbnails of all the songs or albums, which are easily browsed by turning  the scroll wheel. For some reason, I like to select music this way. I thinks it's because of the scroll wheel, which is a great interface for Cover Flow. Using a mouse just isn't the same. (And this is why Cover Flow will be great on a tablet).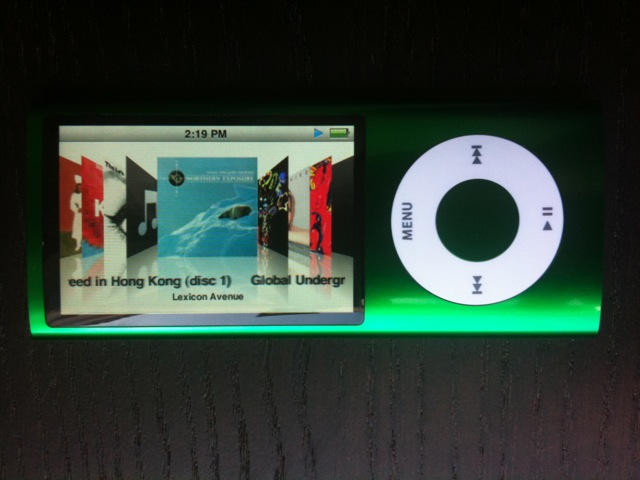 What's remarkable about all these features is that most were apparent from just playing around with the device. Manual? Never look at them. I want to just pick up and play. And the great thing about the nano is that you can do that.
What happens if you hit pause, or hold down the center button? For a device with so many features, it's remarkable that I had to look up only a couple of things on the web to see how they worked.
The bad: Almost too small and light for clumsy middle-aged fingers. No still pictures. The tinny little speaker is so weak, it'll waken only the lightest sleepers.
Conclusion: Truly impressive how much technology has been crammed into such a small device. If the nano took still pictures, it'd be perfect.
The iPod nano comes in two sizes: 8GB for $149 and $16GB for $179.
Buy now from Apple's online store: iPod nano with video camera, 8GB for $149, 16GB for $179